No, it's not mandatory to empty moving dressers for movers. But it's good practice if you do so.
Depending on the type of movers, things you are moving, type of dresser, and things into the dresser it depends if you need to empty the dresser or not.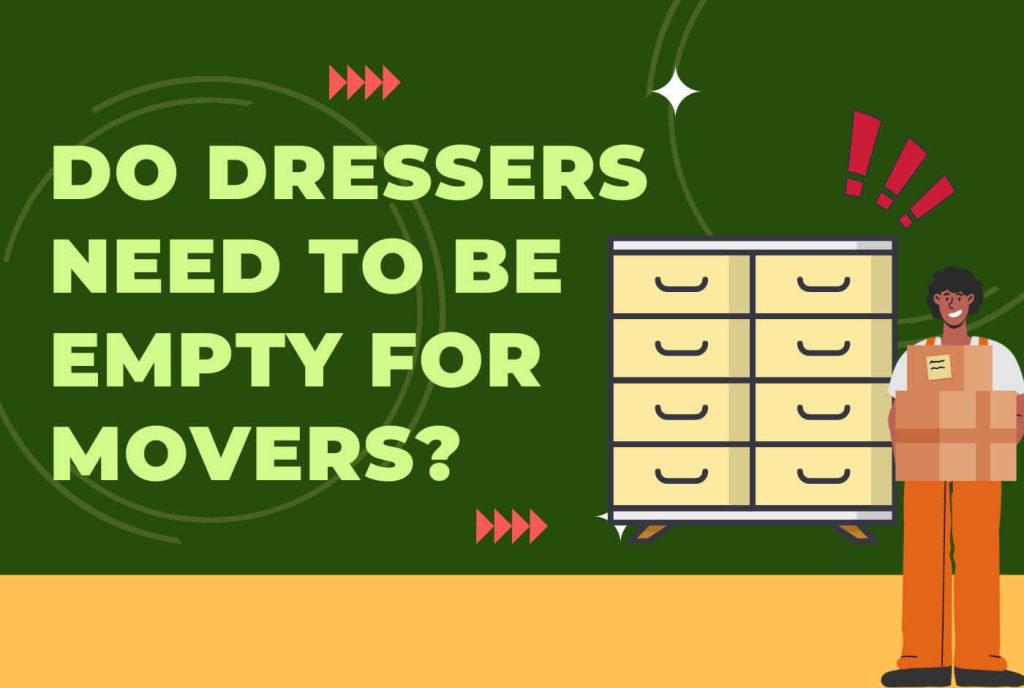 The overall moving procedure is a daunting task with packing, loading, unloading, unpacking, and so on. If you hire a mover who provides full service, then you can ask them to pack your dressers.
But before that, you need to check the list of what things movers won't move or pack for you. If you have lightweight dressers, in that case, you can put light clothes or pillows here to make the task easy.
On the other hand, if the dresser is heavy itself then it's necessary to empty it and if possible disable it to reduce weight and make it easy to load and carry.
That's not all the things about dressers, there are a bunch of facts you should know before moving your dressers. Explore the blog to enhance your idea.
When Can You Leave Clothes in the Drawers?
If you have lightweight dressers then you can leave your clothes in it. As it may not be going to create any damage during moving. And will be easy to move and carry.
You can leave clothes in drawers which are tight in size and your clothes fit easily, secure and there's less available space. And if possible then make sure these dressers fit into moving boxes.
Use drawers to carry clothes if the distance is short and there are no obstacles including stairs, tight corners, antique items, and so on.
If you are going to bring the drawers with you such as in your car then you can put the clothes in the drawers.
If the drawer is made of solid wood and a strong frame then you can use it as moving dressers with clothes in them to protect your clothes while moving and pack the drawer with bubble wrap or plastic wrap.
When to Empty Dressers
When you are planning to move a long distance, at that time moving dressers with clothes in them isn't a good idea. As it may take some days to deliver to your residence. So, it's advised that you pack the daily used clothes with you in suitcases or a separate bag.
If your dresser is bulky and heavy, then it's necessary to empty it before moving to reduce the weight and avoid any accidents by the dresser mover.
On the other hand, if the dresser is a piece of antique then it's better to move with enough safety. Removing the dresses from there.
Some dressers are oversized. In that case, it's better to empty the dresser to lift it easily and make the task easy if there are any stairs or tight corners.
Several portable dressers are seen nowadays. They aren't strong and balanced enough if you put clothes in them while moving. So it's better to remove the clothes and make them as small as possible for safe moving.
If there's a wooden floor in your place, the corners are tight then it's a good practice to empty the dressers before loading on the truck.
Things You Must Remove Before Moving Dressers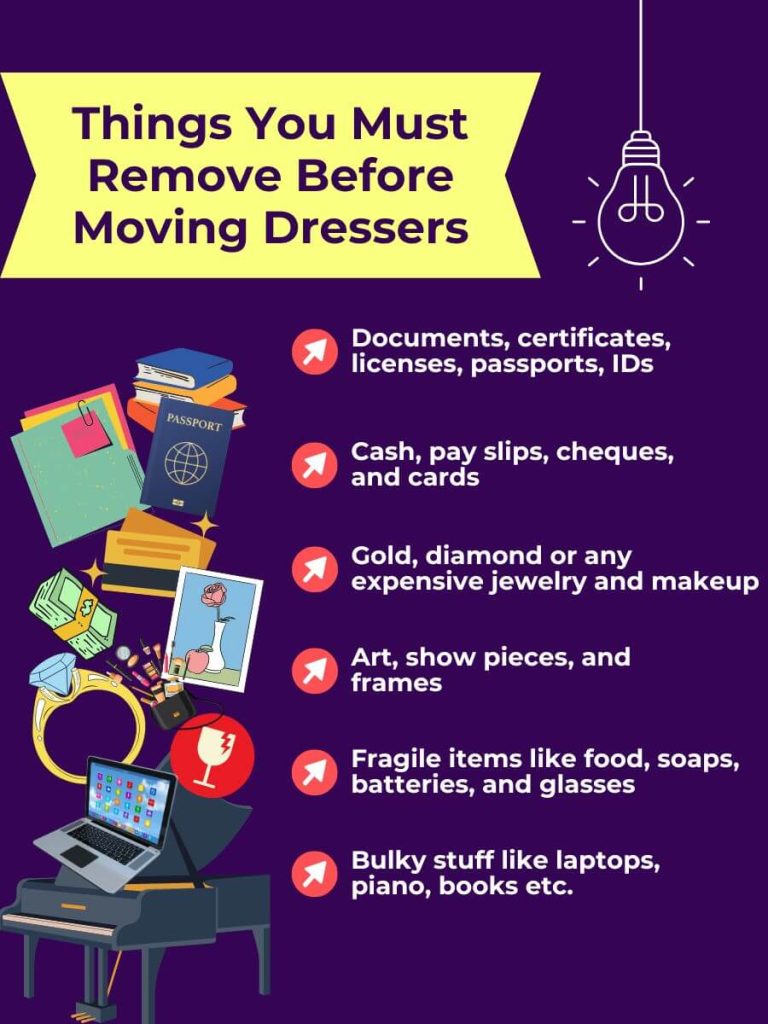 Dressers look so simple but their function is a bit difficult to handle especially while moving dressers. Closets have their own weight and things in it make the weight much heavier. That ends up creating difficulties for dresser mover.
There are certain things you can keep in the dresser including lightweight pillows, clothes, bed sheets and so on.
But of course depending on the type, condition, weight of the dresser. But there are a number of things you must remove. That includes-
Important belongings include documents, certificates, licenses, passports, IDs, and on and on.
Essentials include cash, pay slips, cheques, and cards.
Jewelarries including gold, diamond or any expensive one.
Expensive makeup.
Antiques include art, show pieces, and frames.
Fragile items include any kind of food, soaps, batteries, and glasses.
Heavy and bulky stuff including laptops, sound systems, piano, books, and so on.
How to Pack Clothes from Dressers
With a proper plan and resources including boxes, bags you can pack clothes from dressers.
Packing clothes may sound simple but it's a daunting task. If you google it, you can see 74,300,000 relevant answers. Now you know how important the topic is! Know here a bunch of ways to pack clothes from dressers-
Before starting packing, separate the seasonal dresses, unwanted ones, and daily clothes to make the step easy.
Optimize packing space with suitcases. Try flat folding, the military rolling method of folding, Konmari method for making space in the suitcase for several clothes.
You can use garment boxes to which you can transfer clothes with hangers from dressers without taking them off from the hanger.
Avoid large boxes for heavy clothes. Divide them into small boxes or garbage bags.
You can use dressers too if they are lightweight. Then you need to wrap the dressers full of clothes properly.
Protecting Dressers During the Move
From packing the dresser to unloading it and setting the dresser in the new residence is a bit of a risky task. There are several ways to protect the dresser while moving. That includes-
Use furniture pads, bubble wrap, plastic wrap, furniture blanket, and stretch wrap to cover it thoroughly and protect it from any damage or scratch.
Tape drawers shut to not fall during the move. And if the dresser is lightweight then it can be used for carrying clothes too.
Tie cabinets closed to avoid sudden doors opening and causing any accidents during the move.
Empty the dresser if the dresser is bulky and heavy or antique.
If possible then use a furniture dolly, to make the moving, loading, and unloading easy.
If your dresser has a mirror, then don't forget to remove it before moving.
Don't forget to wrap the dresser knob or handles.
People Also Asked
Will Movers Move a Full Dresser?
No, movers won't move a full dresser.
Full dresser can cause a number of hassles during moving including lifting, using stairs, moving from tight corners and so on. Also, if the dresser is bulky and heavy, an antique piece, then it's not a good idea to move a full dresser.
But in some cases, if you have a lightweight dresser and the stuff in it is light too then movers will move a full dresser.
Do Movers Pack Your Clothes?
Yes, movers pack your clothes.
Most of the time movers pack your dressers, grills, and large and bulky items. But if you hire a full-service mover then you can ask them to pack clothes too. But in most of the cases, it's not a good practice. It's preferable if you pack your clothes, important documents, and jewelry by yourself. But if you are busy or unable to pack then movers are a good option you can ask for packing clothes.
Dressers are the organizer that is used by us to not only make a place for our dresses but also secure important documents or essentials. While moving, we need to think twice about the dressers.
What we should keep in them, what not or how can we use them while packing, how to pack them properly to make a safe move, and on and on. In the above blog, we tried our best to mention the facts, ways, and things for which you can use a dresser on the time of moving. If this helps you, share your experience with us in the comment section.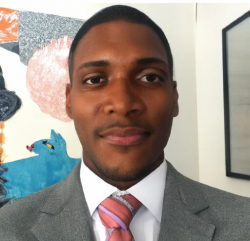 Latest posts by Brandon Pollard
(see all)