Yes, definitely! Moving your furniture is best done by wrapping and protecting it. A typical American will move 11.7 times in their life. So wrapping is essential.
Here I will explain why furniture wrapping is necessary, how to accomplish it, and what materials you need. Let's begin!
Wrapping furniture has drawbacks. It might be time-consuming if you have a lot of furniture or huge pieces. To wrap furniture properly, you need suitable materials and methods.
Wrapping furniture incorrectly may damage it or require re-wrapping. If you're not a professional mover, wrapping furniture takes skill and experience.
Should you wrap furniture for moving before the movers arrive? Consider these.
Type and condition of your furniture
Glass tables, leather sofas, and antiques are fragile. Wrapping these objects may safeguard them throughout the move. Metal seats, plastic drawers, and wooden shelves are stronger. These things can handle bumps and scratches, so they may not need packaging.
Distance and duration of your move
Moving locally or temporarily may not require wrapping your furniture. If you're traveling long-distance, wrap your furnishings to keep them clean.
Quality and availability of packing supplies
You'll need bubble wrap, moving blankets, tape, scissors, and plastic wrap furniture for moving yourself. Make sure you have enough materials to cover all your furniture. If you don't have quality packing supplies or are too expensive or limited, you may choose to avoid wrapping your furniture or hire movers to handle it.
Cost and convenience of hiring movers
Movers who pack will wrap your furniture using their resources and expertise. This saves time and ensures your furniture is wrapped appropriately. Hiring movers to box your furniture can cost more than doing it yourself because they charge for labor and supplies. You will also lose control over furniture wrapping and labeling.
As you can see, self-wrapping your furniture has pros and cons before movers arrive.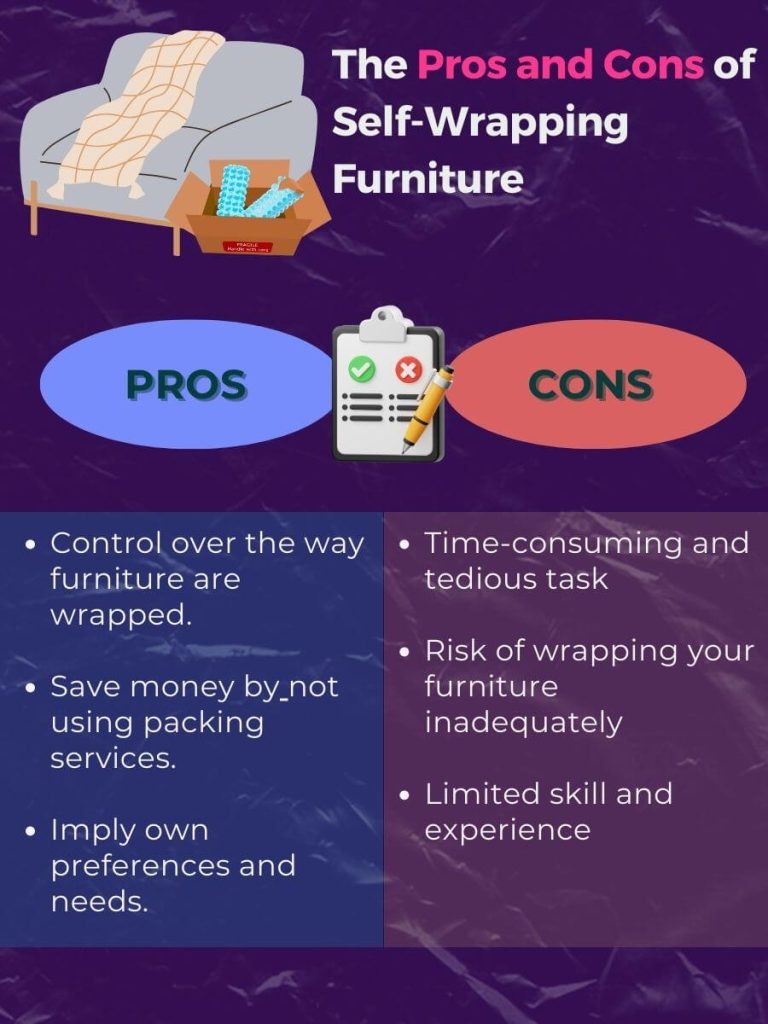 Pros of Self-Wrapping Furniture
More control over how your furniture is wrapped and labeled.
Save money by not paying for movers' packing services.
Use your packing supplies that suit your preferences and needs.
Cons of Self-Wrapping Furniture
Time-consuming and tedious task that requires much effort and patience.
Risk of wrapping your furniture incorrectly or inadequately, which can result in damage or re-wrapping.
Limited skill and experience in wrapping furniture properly and securely.
Wrapping your furniture before movers arrives is a personal choice. Choose the best solution by weighing its benefits and downsides.
What is Movers Wrap?
Stretch wrap, or movers wrap, is a plastic film used to fasten and protect furniture and other goods during a move. It is transparent, flexible, and self-adhesive. 
Protective wrap for moving furniture prevents drawers and doors from opening and cushions edges and corners from bumps and shocks. It can also make furniture loading easier.
Is wrapping your furniture before the movers necessary?
Yes. Depending on the type, size, shape, and condition of your furniture, the distance and duration of your move, the weather, and the quality of your movers. Wrapping your furniture can protect and reassure you, but it may not be required or cost-effective. 4 in 10 moving customers got scammed by their moving company, so this is essential to hire someone trusted.
Furniture wrapping before movers has perks and cons.
Pros
You can prevent dirt, dust, moisture, and stains from getting on your furniture.
You can avoid scratches, dents, chips, and cracks on furniture surfaces.
You can secure loose parts like drawers, doors, knobs, handles, and shelves.
You can cushion sharp edges and corners that could injure or damage other items.
You can make your furniture more compact and stable for easier lifting and loading.
Cons
You may spend extra time, money, and effort buying and applying the wrap.
You may create more waste and environmental impact by using plastic materials.
You may damage or weaken the finish or upholstery of your furniture by applying too much pressure or heat.
You may not be able to see or inspect your furniture for damages until you unwrap it at your new place.
For additional protection, you may still need other packing materials, such as blankets, pads, or bubble wrap.
Use thick mover wrap to avoid tearing and puncturing if you wrap your furniture. You should wrap furniture for moving correctly with these steps.
Clean and dust your furniture before wrapping it.
Remove any detachable parts, such as cushions, pillows, legs, or hardware.
Wrap each piece separately with several layers of stretch wrap.
Start from the bottom and work your way up.
Overlap each layer by at least 50% for maximum coverage.
Tuck in any loose ends or cut off any excess wrap.
Label each wrapped piece with its name and destination room.
If you allow the movers to wrap your furniture, pick a reliable company with a furniture-wrapping experience. 80% of Americans used a professional moving service (movers, packers, moving container companies, etc).
Check their furniture-wrapping policy and fees. Check your furniture before and after moving for damage.
How to Use Movers Stretch Plastic Wrap: DIY Furniture Wrapping
Stretch plastic wrap adheres to itself and seals your furniture. During transport, it protects furniture from scratches, dents, dust, and moisture. This will be you wise decision to wrap furniture for moving.
Tips for DIY Furniture Wrapping.
Clean the furniture
Clean and dry your furniture before wrapping. Wipe out dust, filth, and stains using a moist cloth and air dry. This prevents mold and mildew under the protective wrap for moving furniture.
Start by wrapping the bottom
Lift the furniture end over the plastic wrap on the floor. Securely wrap the furniture's bottom with plastic wrap. Repeat with the roll at the opposite end of the furniture.
Wrap the sides
Cover as much of the furniture's sides with green plastic wrap for moving. Create a sturdy barrier by overlapping plastic wrap by at least 50%. Cut superfluous plastic wrap with scissors or a knife.
Wrap the top of the furniture
Cover exposed areas with plastic wrap. Check the stretch wrap for moving for creases and gaps. Tape seals, seams, and edges.
Wrap disassembled furniture parts separately
Wrap tables, chairs, and shelves individually with plastic wrap. This simplifies transit and reassembly.
Pad corners and edges
Bubble wrap, foam padding, cardboard, or blankets can cushion sharp corners and edges from poking through the stretch wrap for moving or injuring nearby things. Tape or plastic wrap them around the corners or edges.
Label each wrapped item
Write the item's name on the green plastic wrap for moving with a marker or label maker to help identify and organize wrapped furniture. Labels might also include reassembly and positioning instructions.
Leave beds, dressers, etc
Beds, dressers, sofas, and mattresses may not need plastic wrap. Use fitted sheets, mattress coverings, sofa covers, or moving blankets to keep them clean. These things are easier to move without wrapping.
Ask movers to inspect wrapping
Before loading your furniture, have expert movers check your wrapping. They may supply padding, shrink wrap for large items, or wrapping tips.
That's it! You're ready to move your furniture safely and securely with movers' stretch plastic wrap.
Different Types of Materials that can be Used to Wrap Furniture
Depending on size, form, and fragility, you can wrap furniture for moving in numerous materials. Common ones:
Bubble wrap
Wrap mirrors, glass tables, lamps, and artwork with this. Bubble wrap is shock-absorbing and easy to cut and tape. It can also fill box gaps to prevent contents from shifting or rattling.
Plastic wrap
This thin, elastic film seals furniture surfaces. Sofas, chairs, beds, and other upholstered items can be wrapped in plastic to prevent dirt and dust during the relocation. Plastic wrap shields furniture from dampness, insects, and scents.
Moving blankets
These thick, padded blankets wrap the furniture and are secured with straps or adhesive. Moving blankets are ideal for wrapping wooden dressers, tables, cabinets, and bookshelves. Moving blankets insulate and protect furniture from scratches, dents, and noise.
Cardboard
This inexpensive, flexible material may wrap any furniture. Tape or staple cardboard sheets or boxes. Cardboard works well for wrapping lightweight things like metal shelving, plastic seats, and small appliances. Cardboard shields furniture from dust and filth.
People Also Asked
How much is movers stretch plastic wrap?
Duck Brand Stretch Wrap 5 inches by 1000 feet costs $11.001 on Amazon. U-Haul sells 5″ x 1000′ plastic stretch wrap for $9.492. They sell a 15-inch-by-1000-foot roll of stretch plastic wrap for $29.95.
What do movers wrap furniture in?
Movers wrap the furniture in two layers—soft and hard. Moving blankets, pads, or sheets cushion and shield from scratches and dents. The hard layer, usually cardboard, plywood, or plastic wrap, strengthens and stabilizes furniture. Tape, straps, or ropes can fasten wrapping for movers.
Do movers bring bubble wrap?
Not all movers pack bubble wrap. Bubble wrap protects glassware, mirrors, and artwork from shocks. Bubble wrap takes up a lot of room and adds weight, which may increase your moving costs. Before moving, ask the movers if they include bubble wrap or if you need to buy it.
What materials can I use to wrap furniture?
Stretchable plastic wrap, moving blankets, bubble wrap, cardboard, foam padding, and furniture pads are something you can use. Some of the most common materials are— Moving blankets, Pads, Sheets, Cardboard, Plywood, Plastic wrap etc.
Budget, timetable, and preferences matter. If you have time, resources, and confidence, wrap your furniture yourself. Hire an expert if you're unsure, busy, or want to avoid hazards. You want your furniture to arrive in good shape. Move well! Know if you can hire movers just for furniture.
‌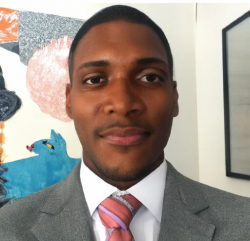 Latest posts by Brandon Pollard
(see all)