Yes, you can find and hire movers with just one day's notice.
A normal moving-out may need at least 4 weeks to prepare and book the movers, start packing, clear bills, and so on. But situations can not always be in your hands. And that makes you gear up your move as soon as possible, sometimes just in a day.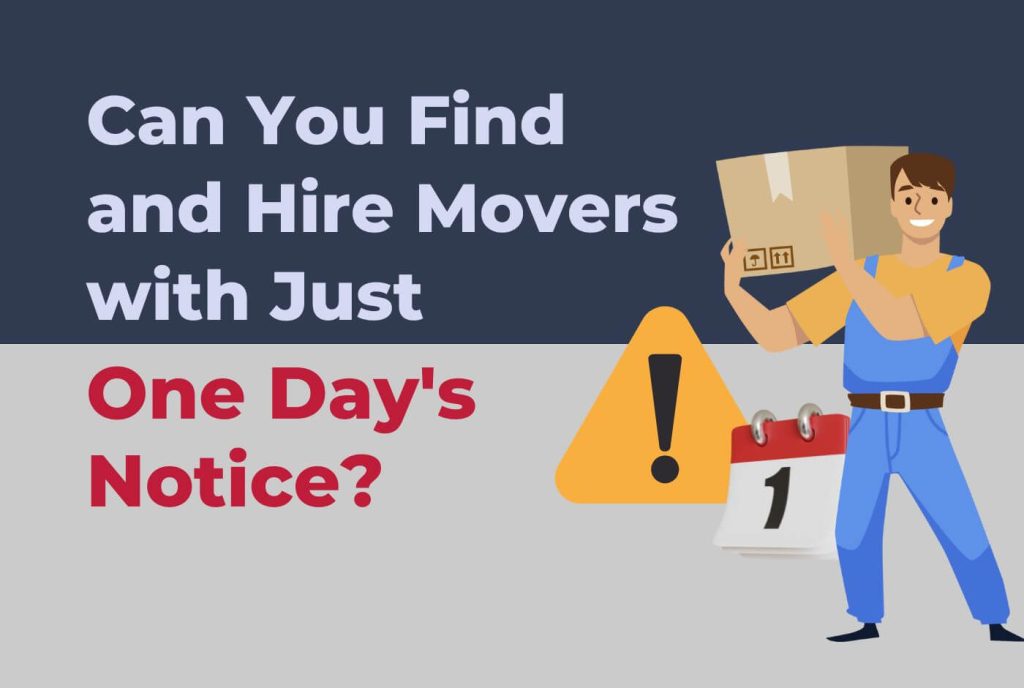 The reasons can be your sudden posting in another state, movers that ditch you at the last minute, you dealing with a fraud moving company, and many more. In this stage, you need to pack your stuff, arrange trucks, find movers in one day, and have minimal time in hand for preparation.
But the task isn't impossible, you will get a bunch of solutions near you. There are a lot of moving companies that offer storage solutions, loading, unloading, 24/7 moving, packing, unpacking, and on and on.
In this blog, we're going to reduce your hassle of last-minute same-day movers by mentioning the ways, and pinpointing the facts and steps.
How Can You Find Movers in One Day?
With the help of online searches, websites, apps; consult with friends or family members; get information from rental outlets for staff recommendation along with other options you can find movers in one day.
Some of the options are given below-
Use Moving/Relocation Websites/Apps
To find one-day movers apps and sites are good options to reduce the hassle. You can visit astound.com, allconnect.com, move.org, and hellomoving.com to get several options for moving companies, storage, shipping, and so on according to your needs.
On the other hand, you can use apps too including Sortly, MoveAdvisor, TaskRabbit, Updater, Nextdoor, and so on.
Search "One Day/Last Minute/ Same Day Movers" on Google Maps
Here on the map, you'll get the list of moving companies near you who provide one-day movers.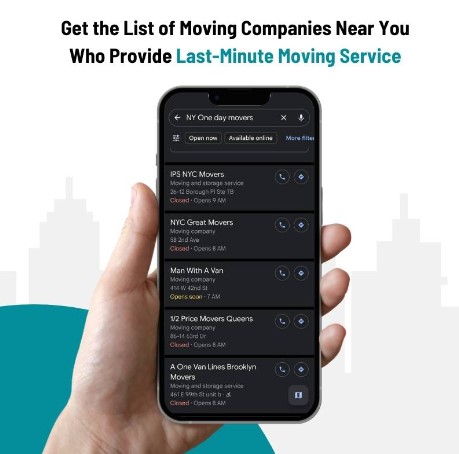 Such as if you live in Central Park in New York and search One Day movers on Google map, then you may get IPS NYC Movers or Man With a Van or NYC Great Movers as options.
Post on Craigslist "Labor Gigs" Section
Craigslist stands for stylized as Craigslist. Where website advertisements are divided into sections including jobs, housing, moving, and so on. Here you can post for last-minute moving help too.
Ask in Local Facebook Groups/Neighborhood Forums
For getting authentic information it might be a good option to choose in an emergency. You can post on Facebook groups including mover network, professional movers, and American movers to get more options to hire same-day movers.
Additionally, you can post on neighborhood forums such as Nextdoor, Forbes, and marina acoustic.
Search Larger Local Moving Companies Online
You can use the internet to get all the options of last-minute large local movers. The common options you may get are – International Van Lines, Interstate Moving & Relocation Group, American Van Lines, Moving APT, and many more.
Inquire at Rental Outlets for Staff Recommendations
Rental outlets such as U Haul, and Penske Truck Rental can help you out in this situation with many recommendations. As they deal with a huge number of movers, they know the ins and outs of the staff who may be suitable for the situation.
Ask Friends/Family/Coworkers
Ask your close ones to help you out from their experience. If they know any movers who deal with this kind of situation. It also helps you to avoid any scam at the last minute.
Be Prepared for Higher Rates/Deposit
Usually, the movers charge $25-$100 for an hour. Last-minute same-day movers can charge a bit high. Usually, a normal moving may cost $200 – $17000 and don't need any deposit.
But in those situations, you may need to deposit to secure the moving on time. But make sure it's not a scam.
What to Look for When Hiring a Moving Company in One Day?
The authenticity, experience, and of course the cost are needed to look for when hiring a moving company in one day.
A safe move is all anyone wants whether it's a time-consuming or rushed situation. So, don't be in a hurry to hire same-day movers. Take your time to find movers in one day and before that check the facts including-
Verify Licensing and Insurance
To avoid any scam at the last minute check the license number of the moving company given by US DOT (US Department of Transportation) and FMCSA (Federal Motor Carrier Safety Administration). Also, make sure the company has a state license and regulates one too.
Additionally, you can verify their licensing with the help of the state transportation department and BBB (Better Business Bureau).
Also, try to find out the insurance they may cover including any damage to relocating protection. Some have full value protection and some released value. There's also the available option of having insurance from a third party while moving.
Get Multiple Estimates
Find out the estimation of the overall moving. It's better to have a binding estimate of cost than a nonbinding one. As in nonbinding estimates, there are high chances of paying a higher rate than the real cost.
Don't forget to know the additional cost of extra time, using stairs and so on. The cost isn't the only thing to estimate while moving; there are estimates of distance, manpower, and timing are also alarming issues.
Inquire about Experience with Short-Notice Moves
Know about the reviews of the movers from the consumers. As you are going to hire one-day movers, it's needed to check out the outcome of previous short-notice moves. From here you can ensure your move timely and safely.
Ensure Company has Necessary Equipment‌
For a safe move, there are appropriate techniques with equipment that are provided and used by the movers. And it's supplied by the moving company.
So, check if the company has the stuff including lifting straps, two-wheel, four-wheel dolly, ramps, appliance dolly, pallet jack, tool kit, truck, moving blanket, tape, boxes, labels, and so on.
How to Pack and Move in One day?
With a proper plan and tricks, it'll be easy to pack and move in one day.
If you follow some tricks including packing tricks, listing, and so on, then the hassle of the overall move can be reduced both for you and the movers. These include-
Focus on Essentials Only
You can't look after everything at a time. Movers deal with large and bulky items. So, you should start packing with essentials including documents, medicines, chargers, important kits and tools, keys, and valuable items that have a high chance of misplacing.
Use Simple Luggage for Transport
Using boxes is time-consuming as you need to secure them with tape labels and so on. But a simple bag can make the task easy.
As you can use plastic bins for packing bathroom accessories including shampoo, soap cases, and on and on, clothes, non breakable items in laundry baskets, books in suitcases, soft, lightweight, and nonbreakable stuff in trash bags, and many more.
Pack Items in Labeled Boxes
Labeled boxes make it easy to track your belongings. It saves you time while relocating as well as unpacking in a new place. And it reduces the chance of misplacement. Try to use a permanent marker or printed paper for better labeling.
Get Rrid of Things You don't Need
You can give the unwanted things to charity or throw them away if you don't need them. Also, several marketplaces deal with old stuff including clothes, electronics, furniture, and so on.
For getting rid of old clothes you can sell them on thredUp, tradesy, and Poshmark, for electronics you can use Amazon, eBay, Decluttr, and so on.
Create an Inventory List
Make the inventory list detailed to avoid any extra hassle letter and find the belongings easily. Here you can include all the items you are moving, their condition before moving, and if possible pictures and videos of the pieces of stuff, add the quantities including the number of chairs, and pillows.
Get Friends to Help with Packing
Same-day moving consumes several work pressures that can be reduced with the help of friends, family, or loved ones. Of course, movers may help you while moving but still there are several tasks left including packing, labeling, cleaning, and monitoring the situation.
So, a reliable one can help you here. You can divide the task with them and reduce the workload as well as save time.
Schedule Cleaners
Cleaning is needed while moving for both new and old residences. There are many cleaners you can book online and schedule them instantly. Contact merry maids, molly maids, the cleaning authority, cleanzen, and others to get cleaners.
Keep Necessary Supplies in One Spot
That includes emergency medicines, locks, screws, scissors, tapes, plastic wrap, bubble wrap, mop, paper, tools and so on. That supplies you need in both places while cleaning, labeling, packing, unpacking and loading and unloading.
Keep Valuables with You During the Move
Don't let the movers handle your valuables that can be your certificates, jewellaries, antiques and others. Even movers won't move these things. Always try to keep these items with you and pack yourself.
People Also Asked
Do Movers Work on Sundays?
Yes, movers work on Sundays.
Even on the weekends, the rush of movers is more than on the weekdays. Before confirming a weekend move, you need to book the movers at least 4 weeks earlier to ensure a suitable date. On the other hand, the overall expense of a weekend move is higher than other days.
Do Movers Work on Memorial Day?
Yes, movers work on Memorial Day.
Moving is a time-consuming and daunting task. So, off days are preferable for individuals to relocate. Movers make the task easy for the consumer working on off days including weekends, Thanksgiving, new year, Independence Day and so on.
Do Moving Companies Work on Holidays?
Yes, moving companies work on holidays.
Holidays are the best time to move. Even the cost of moving on these days is higher than on normal days as the number of consumers is greater than the number of moving teams. These holidays include any government, nongovernment, festive, or weekend holidays. Even on holidays, relocating is less stressful.
Can You Hire Movers Right Now?
Yes, you can hire movers right now.
Several moving companies support your one-day or last-minute moving even right now. There are Xpress movers, two men, and a truck, in a day moving service, bellhop movers, great guys moving, and on and on.

No doubt moving is a daunting, time-consuming, and risky task. And it becomes more hassle if you need to arrange everything just in a day or the day you are moving.
Normally, the preparation of moving requires at least a week including packing, booking movers, confirming a suitable time, and so on. But there may be a situation that leads you to move just in a day. There are movers only who can save you from the situation. But ensuring a safe move and avoiding any scam finding and selecting reliable movers is essential.
In the above blog all the possibilities, and ways of finding the last minute same day movers are mentioned. Try these in your move and let us know your experience through the comment section.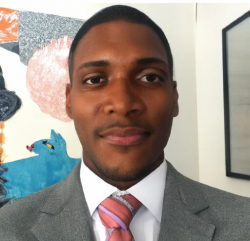 Latest posts by Brandon Pollard
(see all)