Yes, hiring storage unit movers offers unequaled ease and many benefits. Professional movers handle packing, loading, transit, and storage. This efficient approach lets you focus on other moving duties.

Movers pack and safeguard your belongings to reduce harm. Owners move 36.3% more than renters. Experienced movers provide peace of mind.
What are the Movers and Storage Services?
Movers and storage services are crucial in helping individuals and businesses transport their belongings from one location to another, either temporarily or long-term.
Here are the three main types of services you can consider:
Full-Service Moving Companies
Full-service storage unit movers handle all aspects of moving. Professional movers usually pack, load, transport, unload, and unpack your stuff. These companies provide packing materials and furniture disassembly and assembly. Full-service movers handle all logistics, making relocation easy.
Self-Service Storage Facilities
Self-service storage facilities, often self-storage or storage units, are suitable for short-term or long-term storage. These facilities offer secure storage in various-sized units. Self-storage requires packing and transporting your belongings. Your storage unit is accessible 24/7. When downsizing or transitioning, self-storage is a standard option.
Independent Movers
Independent movers offer fewer services than full-service moving businesses. These movers load, unload, and transport your belongings but may not offer packing or other services. Independent movers are cheaper than full-service moving companies, making them popular with DIY movers.
Can Movers Deliver to Storage?
Scheduling the Delivery
After choosing storage units and movers to store your possessions, schedule delivery and inform your selected moving company of your move. This includes the pick-up and delivery times.
Packing and Loading
The movers will arrive on time with packing supplies and moving gear. They will bundle your items securely for the storage container. After packing, movers load the truck.
Transportation to the Storage Unit
The movers will then take your items to storage. Long-distance moving may be required if the storage unit is in another city or state. Thanks to the movers, your goods will reach the storage facility safely and on time.
Unloading at the Storage Unit
The movers will unpack your belongings from the truck and gently arrange them in the storage container. They will organize the room to maximize storage capacity and carefully treat fragile or precious objects.
Finalizing the Process
After storing your things, the movers will complete any storage facility paperwork. Before leaving, the movers will check the storage unit agreement or contract.
Examples of when using movers for delivery can be beneficial: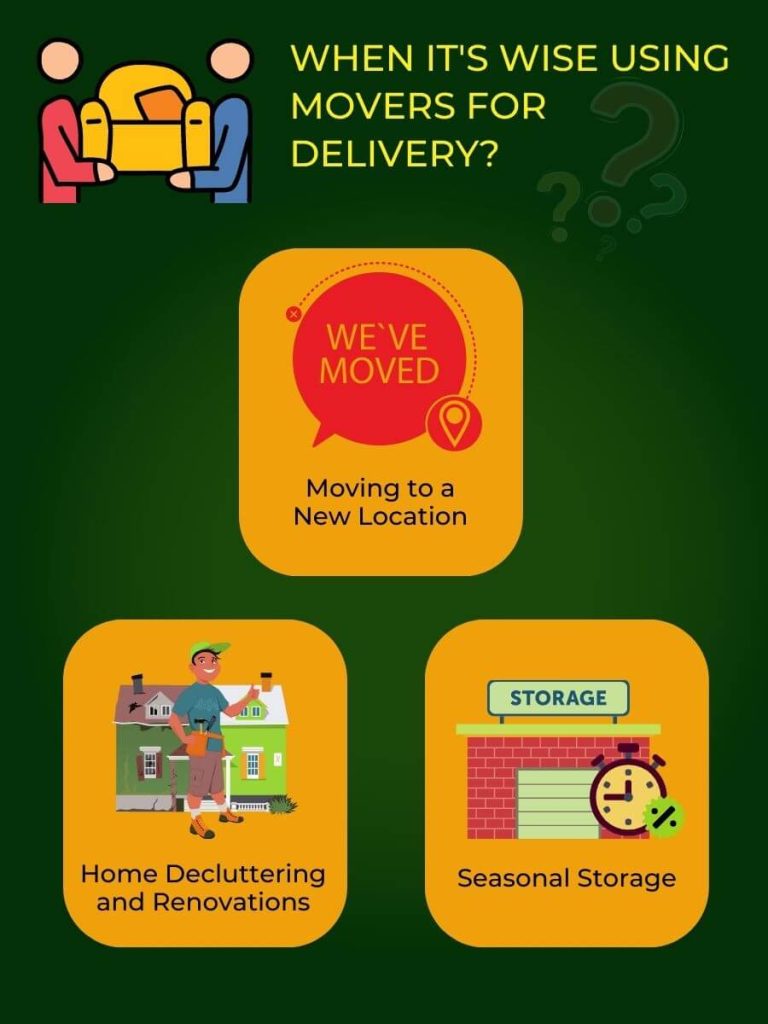 Moving to a New Location
Hiring storage unit movers to relocate your stuff directly to a storage unit can help while moving. This lets you slowly unload and organize your new home. Until you organize your new house, store non-essential items.
Home Decluttering and Renovations
Movers can temporarily store furniture and other goods during house renovations or decluttering. This protects your belongings during home improvements. After modifications, the movers can bring the items home.
Seasonal Storage
Movers can move holiday decorations and outdoor furniture to a storage container between seasons. This clears space in your home during the off-season and keeps seasonal things safe and accessible.
Hiring movers to transport valuables to a storage container saves time, labor, and the risk of damage. It streamlines transitory possession management.
Can Movers Pick Up From My Storage Unit?
Yes. Storage unit movers can retrieve storage unit items. You can hire movers to return your stuff from storage. Movers can quickly recover belongings from storage and deliver them to a new home, business, or other location.
Moving to a New Residence
When you move, hire movers to move stuff to storage unit for your new house. This service is helpful if you wish to transfer your stuff in phases or need time to organize and settle into your new house.
Renovation or Remodeling Projects
During house renovations, you may have stored your furniture and valuables in a storage container to make room and safeguard them. After the renovation, movers can bring your stuff back from storage. This protects your belongings and saves you time.
Temporary Storage Relocation
You may need to move your items to another storage facility. This could be due to a move, a larger storage unit, or a closer storage facility. Moving companies streamline the procedure of switching storage facilities.
Event or Exhibition Setup
Hire movers to move stuff to storage unit for events, exhibits, and trade shows. Movers can deliver display materials, merchandise, and other objects to the event venue for a professional setup. The movers might store or deliver objects after the event.
Seasonal Rotation of Belongings
Seasonal decorations, outdoor furniture, and sports equipment stored in a unit may be worth retrieving occasionally. Movers can help retrieve these goods from storage and return them after the season.
Hiring storage units and movers to retrieve and carry items simplifies the procedure and protects your property. It simplifies, secures, and organizes your saved goods during life transitions and tasks.
Can Movers Put Stuff in Storage?
Factors to consider when movers put stuff in storage:
Climate-Controlled Units
Climate-controlled storage units maintain temperature and humidity for sensitive or expensive things. Find a climate-controlled storage facility if you keep wooden furniture, electronics, artwork, or antiques with movers. This preserves your items in storage.
Security
Storage facilities need security. Theft and unlawful access are prevented at reputable storage facilities. When utilizing movers, choose a storage facility with gated access, surveillance cameras, and individual unit locks. Keeping your stuff safe in storage gives you peace of mind.
Accessibility for Later Retrieval
When movers store your belongings, consider the storage facility's accessibility. If you're storing objects temporarily or seasonally, you may need to access them.
Choose storage units and movers facilities with convenient access during or after business hours. Some facilities offer 24/7 access for easy item retrieval.
Factors you need to be cautious:
Inspect Storage Condition Before Movers Leave
Before departing storage units and movers, ensure all your goods are inside. Check the movers' stacking and securing to avoid damage during storage. Report any unit damage to the storage facility management, including leaks, bug infestations, and structural difficulties.
Document Inventory and Damages
Give the movers a copy of your storage inventory. This inventory list should describe each item's pre-storage state. This documentation can be used to resolve moving and storage damage issues.
When loading your items into the storage container, ask the movers to get a copy of their inventory list. Check this list against yours for correctness and completeness.
Cost of Hiring Movers to Move Your Stuff into Storage
The type of storage facility you choose affects the cost of hiring movers to transport your stuff into storage. Storage facilities differ in convenience, security, and services, which affects pricing.
Traditional Self-Storage Facilities
On average, 10×10 foot units cost $117 monthly, while 10×15 foot units cost $133. Traditional self-storage facilities offer various-sized storage units with central corridors or roll-up doors. These storage facilities provide essential services.

The cost of hiring movers to relocate your stuff into a standard self-storage container depends on the distance, volume, and other services (packing, furniture assembly). Depending on the intricacy of the move, movers charge an hourly rate or a flat fee.
Climate-Controlled Storage Facilities
Climate-controlled units cost on average $150 per month. Climate-controlled storage facilities regulate temperature and humidity to protect important things. These facilities are excellent for wood, electronics, artwork, and vital documents that severe temperatures can harm. Due to the significance of climate-controlled storage, movers may charge more than self-storage.
Full-Service Storage Solutions
Neighbor self-storage costs 50% cheaper than standard storage facilities. Full-service storage includes transportation and storage. Professional movers deliver and store your stuff at this facility. Full-service storage usually includes packing, unpacking, and furniture installation.

Full-service storage costs vary by service level, move distance, and storage period. This choice is expensive but gives the most ease and little effort.
Portable Storage Containers
New 20-foot containers cost $3,000–$4,000, while used ones cost $2,000–$2,500. New 40' containers cost $5,000–$6,500, while used ones cost $2,500–$3,500. A 7'-8' container costs $115-$180 a month, while a 12'-16' container costs $145-$199.
Another storage option is "pods," or portable storage containers. This option delivers a container to pack at your own pace. The container is taken to storage after packing. Load and unload the container with movers. The cost of portable storage movers depends on the number of containers, distance, and duration. It's cheaper than full-service storage and convenient.
Remember that the availability of movers in your location, any other services needed (e.g., packing supplies, insurance), and storage facility fees can significantly affect the cost.
Tips for Moving Your Stuff into Storage
Declutter Before Packing
Declutter and remove unwanted objects before storing them. This will conserve space, save storage expenses, and simplify unpacking.
Create an Inventory List
List all stored things in detail. This will let you track your storage and file a loss insurance claim.
Pack Your Belongings
Use Sturdy Boxes: Buy heavy-duty moving boxes. Broken boxes can break during storage.
Use Proper Packing Materials: Bubble wrap, packing paper, and furniture coverings safeguard fragile things. To protect furniture, disassemble and wrap pieces.
Fill Empty Spaces: Fill box gaps with packing material to prevent shifting during transport and storage.
Don't Overpack: Overloading boxes can damage them and make them hard to manage.
Label Your Belongings: Label boxes with their contents and room. This makes it easy to find goods afterward.
Consider Climate-Controlled Storage: Choose a climate-controlled storage unit for temperature- and humidity-sensitive objects. This protects your stuff from severe weather.
Arrange Items Strategically: Make your storage container easy to reach for regularly used things. Put commonly used things in front for easy access.
Use Proper Packing Techniques for Different Items
Furniture: Disassemble furniture and pad it.
Electronics: Use original boxes for electronics. Use robust, well-padded boxes.
Clothing: Wardrobe boxes or vacuum-sealed bags protect garments from dust and vermin.
Fragile Items: Bubble wrap and packing peanuts or crumpled paper cushion fragile things.
How to Store Your Belongings in Storage
These recommendations can help pack and store your items safely, making moving and storing easier.
Choose a Clean & Dry Place: Choose a clean, dry storage location to avoid dust, vermin, and moisture.
Elevate Items Off the Floor: Avoid water damage by elevating boxes and furniture.
Secure Your Unit: Lock your storage unit and restrict access.
Inspect Your Belongings Regularly: Check your stored goods regularly. Check for damage, bugs, and other issues.
How to Hire Movers to Move Your Stuff into Storage
To ensure a flawless relocation into storage, hiring movers involves meticulous planning.
Determine Your Needs
Assess your moving and storage needs, including the number of things, the distance to the storage facility, and any additional services like packing, disassembly, or specialty item handling.
Know Your Storage Rules
Read the storage facility's policies. Some facilities have packaging or item restrictions.
Read Reviews and Ask for References
Read moving company reviews online to determine their reliability. Request references from friends, relatives, and coworkers who have used movers.
Get Quotes from Multiple Moving Companies
Compare moving firms by requesting quotations. Make sure quotations are complete and include all fees.
Verify Licensing, Insurance, & Credentials
Check the moving businesses' licenses and insurance. Confirm their identity with the necessary authorities.
Book Movers in Advance of Your Move Date
Book a moving company early after choosing one. Early booking ensures availability for reliable moving firms with hectic schedules on your selected moving day.
Sign the Contract
Review the contract before moving day to confirm all services, pricing, and terms are clear. When satisfied, sign the contract.
Supervise Movers to Ensure a Smooth Move
Supervise movers on a moving day. Clear directions and answer questions. Stay available to handle issues.
People Also Asked
Can you hire movers to take stuff to storage?
Yes, professional movers may transport your possessions to storage. Movers may pack, load, transport, and unload your belongings into a storage facility.
Do professional movers go to storage units?
Yes, professional movers may pick up and deliver items from storage or move your stuff into storage.
Do public storage units have movers they work with?
Yes, many storage facilities cooperate with or recommend professional movers. Ask the storage facility for movers.
Will military movers pick up from a storage unit?
Military movers can carry your possessions from a storage unit to your new duty station or desired location if you have organized for a government-sponsored "PCS move" (Permanent Change of Station). Military movers handle everything, including bringing up belongings from storage.
Moving and storing together with movers has many advantages. It makes moving easier by handling packing, loading, transportation, and storage. Their experience reduces damage by handling and packaging your goods properly. Reduced tension and peace of mind let you focus on other crucial responsibilities.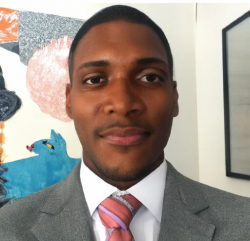 Latest posts by Brandon Pollard
(see all)