Condo moving is now a common thing among people like you because it includes advantages like low ownership cost, low maintenance, security, customization, and many more.
If you want to move to a condo, you will get security and many spacious facilities. But on the other hand, you will also get inconveniences like hassle while maintaining such a big property, huge annual management charges, and others.

Here in our blog, we're going to make things easy for you by providing the answers to what to do and not to do before, after, and during moving into a condo.
Pros and Cons of Living in Condo
It is not only a good experience at the condominium. Like two sides of a coin, a condo has good sides and bad sides. It is-
Pros of Condo Moving
While condo moving is affordable for you, living may be more affordable than that. The reasons are:
You can select a condo for your job or education purpose at any place of your choice, as per your convenience of transportation.
It is more affordable than an apartment. According to a 2018 NAR report, the average condo price is $248,200, which is currently expected to decrease by 8%-9% in 2023.
You will get maintenance-free living here.
You may get your garage.
You will also get security for mail, and parcel delivery along with your security. For example, when you go somewhere outside the house, your neighbors will not recognize it easily.
You can renovate a condo as you wish without depending on the management company, which is better than apartment management hassle.
In condos, you will get facilities like a gym, playground, and swimming pool, which only a few condo owners can access.
Cons of Condo Moving
Condo owners sometimes have additional fees to pay called Homeowner association (HOA) fees. Which are paid for maintenance such as the common area or beautification of the place, and any renovation fee.
Sometimes the same boundary wall has to be shared, which reduces privacy.
The condo association may sometimes have restrictions, such as fixed check-in timings.
You will get limited options here compared to any other house. Like limited parking, and limited storage to keep something.
Shared common areas may be a burden because there are many rules from the association, such as whether you can go to the common park if you have a pet or what pet you can keep, selected timing for using pools or playgrounds.
That is a type of multifamily living, so there are many noise issues to deal with.
How to Know If a Condo Living is the Right Choice for You?
A condo gives you the benefits like budget, privacy, space, common area facilities, fees, and transportation facilities, which you don't get in a house. These small factors make life much easier for moving from a house to a condo. Also, the other factors of condo moving are-
Your budget is key. Depending on your budget, taking a condo will be beneficial. As the additional fee is $200 – $600 or more per month, depending on the location. However, prices today are usually between $200,000 – $437,000.
They are usually of medium sizes. So check your budget and location first and then consider other factors. After that, even if you get a condo in your budget, the time of moving from a house to a condo will be difficult considering various factors.
It includes the space, how many of your family members you have to select such a place if you are alone and if you are with many family members then you have to take a different kind of spacious place. Again, privacy is a special factor. Which also protects your family members and pets.

Avoid shared boundary walls if possible during condo moving. Apart from that, if you get a condo with a private swimming pool, studio, enough walkway, garden, and playground, then it is better because only you will have control over it.
What to do Before Moving into a Condo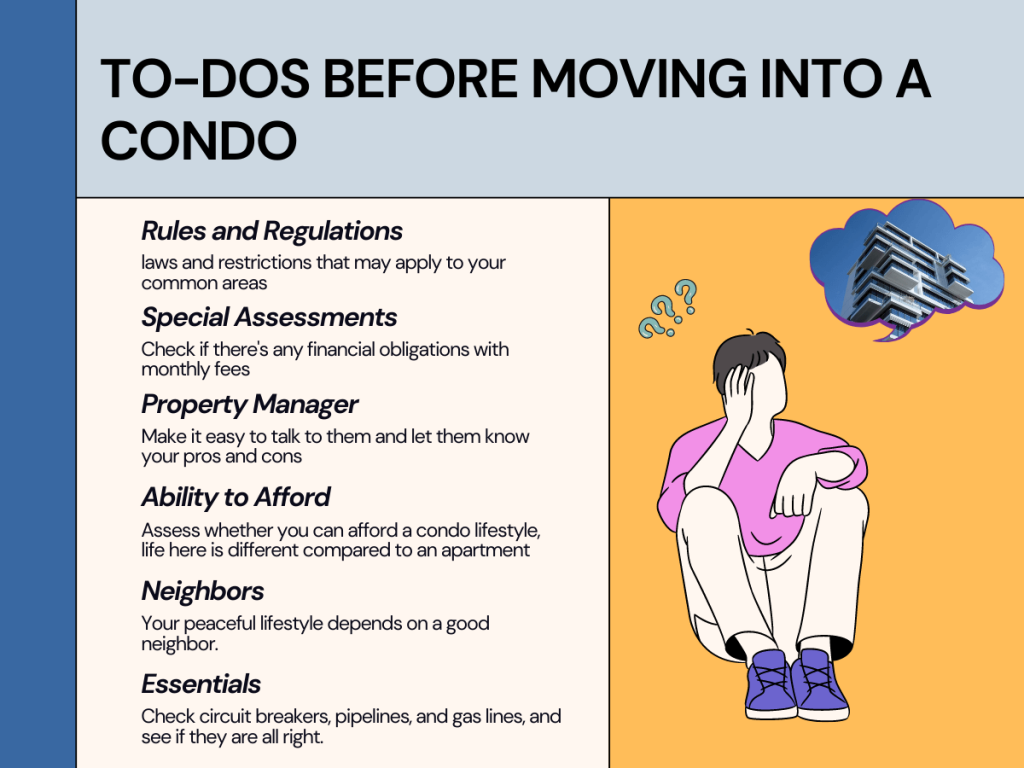 Before moving to the condo, you must master some legal documents, procedures and fees, security, maintenance rules, and regulations.

Moving into a new condo is not an easy task, there are secondary considerations such as how to move, moving fees, movers, others, and primary considerations which are discussed here-
Check the by-laws, rules, and regulations that may apply to your common areas, noise, garbage disposal, pet parking, architectural maintenance, or penalties if you do anything wrong.
Check if there are any special assessments or financial obligations with monthly fees. If so, note the amount or whether it will be paid in installments.
Get to know the property manager and management company. Make it easy to talk to them and let them know your pros and cons.
Assess whether you can afford a condo lifestyle, life here is different compared to an apartment. You have to fix your things, if it is damaged, you have to take it again. If any renovation is needed, it should be done by itself without depending on the committee.
Try to know what your neighbors are like. Because your peaceful lifestyle depends on a good neighbor.
Check all the essentials of the condo such as circuit breakers, pipelines, and gas lines, and see if they are all right.
What To Ask Condo Management Before Moving In
Before condo moving, if you have any queries about the advantages and disadvantages such as pet, parking, garden, area related or rules such as parties, renovation, fees, or insurance, you can ask the management in advance. There is more to know–
Are pets allowed?
Pet allowance depends on the rules and regulations of the management committee. Pet restriction is an important aspect of the condo. In most cases, its restrictions depend on the breed, type, and number confirmed by "Covenants, Conditions, and Restrictions" (CC&R)s.
However, 2 animals together or a large dog are restricted from all places. However, if you follow some rules, you can keep a pet in your area. Such as keeping the place clean, keeping quiet.
What are HOA fees and what do they cover?
HOA is a charge applicable to co-owners, and owners of certain neighborhoods. That includes some maintenance fees like pool, park, and walkway maintenance in short overall property maintenance.

This covers trash removal, road lights, snow removal, outside security, ac, heating, sanitation, pipelines, internet, and electric cable repair as well as maintenance. And to keep some funds in reserve for any urgent and expensive expenses in the future.
What types of amenities are available?
There are many available amenities from inside to outside. They include-

List of inside amenities –
Air conditioning
Dishwasher and Fireplace
Hardwood floors and laundry machines
Large windows with views and a Private balcony
Walk-in closets
Private parking and a controlled security system
Private pool and garden(Optional)

List of outside amenities-
Easy wifi access.
Sports courts and parks.
Gyms or yoga options
Media rooms.
Community event space with a grill set up.
What does insurance cover?
Minor damages can be repaired through insurance at free costs, such as fixing a water leak or changing the light. But for any disaster damage or any other major repairs, you have to pay yourself. Confirm these issues with the management.
Are there restrictions on renovating?
Yes, there are some restrictions while renovating your condo.

In condominiums, you can do remodeling but there are some limitations. All you can do in the renovation is interior painting, flooring as you like, and decoration as you wish. But what you can't do is set the TV or sound system on the wall.

During the condo moving, it should be noted that if the wall is the same for two condors, then nothing can be attached to that wall. Apart from that there are limitations of exterior design. The exterior design and color of the condo are the same for all, usually according to the condo moving rules.
Are there restrictions on playing music, or throwing parties?
Of course, there are restrictions here.

The condos are usually next to each other, and sometimes two condos share the same wall. A loud sound or party may disturb someone next door. In no way can the sound be too loud. If you need to have a party or play music, you can talk to the neighbors and get their permission.
How does maintenance work?
Maintenance can help you do the little things that will come in handy outside of your condo. Apart from that, you have to bear all the expenses including the repairing of the condo.
Does this Unit come with parking?
Parking comes down to management issues.

If you are lucky enough you can get your parking area but its space is reserved for one car. You have separate parking spaces in many places where the space is allotted, and if you need guest parking, you have to clear the matter from the management first.
Moving from House to Condo with Pets
The rules of the house and the rules of the condo are slightly different and the type of place is also different. Condo movers may help you move with your pet. There also includes some facts like-
Communicate with management about their pet policy and pet registration requirements to ensure the security and find if your pet fulfills the requirements.
Gradually introduce pets to new smaller spaces. As the size of houses are quite larger than condos. So, make the place as comfortable as possible.
Introduce your pet with the new rooms as well as washrooms.
Make the place more spacious by adjusting the furniture properly and ensure the safety of your pet.
Check building regulations on dog-walking areas within its grounds to give an evening or morning walk to your pet.
Give a glimpse of your condo to your pet, so that they may easily find the new place in case they are lost.
Be calm and give time to adjust your pet to the new place.
The Bottom Line
Condo offers you facilities like security, and space and drawbacks like additional fees, and limitations of renovation. But condo living is the best option for living and arranging like yourself. If you are thinking of moving into a condo, move now without delay before someone moves to your desired condo.
Exploring Condo Moving FAQs
Is moving a condo in someone else's name bad?
Yes, it's bad as well as a crime.

Because it can prove you fraud which is the most concerning issue. Moreover, if the management comes to know, they can take legal action against you. You may even need to leave the condo even if you maintain all the rules and make all the payments properly.
Does moving from a house to condo free up time?
Yes, it frees up time.

Here the maintenance cost is low and easy, so you don't have to waste time thinking about these things separately. Moreover, the condo is always in a convenient place, so you can reduce the time to go to school, university, or office.

Apart from that, you don't have to go out for other things because there is a park, gym, and playground in the condo and it will save a lot of time.
Will I save money by moving into a condo?
Of course, you can. You don't have to pay maintenance charges here.

There is no separate cost for parking. The gym, pool is accessible for all condo co-owners, so there is no need to go anywhere outside. Again, if the condo is near your educational institution or job location, the commuting cost will be reduced.
Average cost of moving out of a 2-bedroom condo?
The average cost of moving out of a 2-bedroom condo is $700-$3,100.

It includes vehicle rental and labor costs of $29.95 for in-town moves and $0.89 per mile additional as well as $25-$60 per day and per person. So, according to the number of movers it may change from $120-$240 for 2 to 4 member groups. That may vary with the distance as if it crosses 100 miles then the charge may increase, the size of the condo, and the type of condo moving companies.
{ "@context": "https://schema.org", "@type": "FAQPage", "mainEntity": [{ "@type": "Question", "name": "Is moving a condo in someone else's name bad?", "acceptedAnswer": { "@type": "Answer", "text": "Yes, it's bad as well as a crime. Because it can prove you fraud which is the most concerning issue. Moreover, if the management comes to know, they can take legal action against you. You may even need to leave the condo even if you maintain all the rules and make all the payments properly." } },{ "@type": "Question", "name": "Does moving from a house to condo free up time?", "acceptedAnswer": { "@type": "Answer", "text": "Yes, it frees up time. Here the maintenance cost is low and easy, so you don't have to waste time thinking about these things separately. Moreover, the condo is always in a convenient place, so you can reduce the time to go to school, university, or office." } },{ "@type": "Question", "name": "Will I save money by moving into a condo?", "acceptedAnswer": { "@type": "Answer", "text": "Of course, you can. You don't have to pay maintenance charges here. There is no separate cost for parking. The gym, pool is accessible for all condo co-owners, so there is no need to go anywhere outside. Again, if the condo is near your educational institution or job location, the commuting cost will be reduced." } },{ "@type": "Question", "name": "Average cost of moving out of a 2-bedroom condo?", "acceptedAnswer": { "@type": "Answer", "text": "The average cost of moving out of a 2-bedroom condo is $700-$3,100. It includes vehicle rental and labor costs of $29.95 for in-town moves and $0.89 per mile additional as well as $25-$60 per day and per person. So, according to the number of movers it may change from $120-$240 for 2 to 4 member groups." } }] }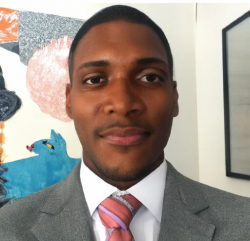 Latest posts by Brandon Pollard
(see all)