When moving from one state to another with your child, you should follow a detailed and planned strategy.
2,53,000 residents are recently relocating as a single mom from a random state to the south. The calculation is similar for other states also. Before moving, single moms need to be sure they can manage their time and money. Try to make the moving environment for your youngster as simple as possible, and estimate the number of movers you would need for your stuff.

Additionally, you may put tiny and huge staff in boxes or organizers, choose the ideal vehicle, and more. For thorough answers to all of them, see the advice below.
Timing is Key
The most crucial aspect of relocating is managing your time since you should remember things like packing, feeding the kid on time, and thinking about safety. And the bills and rent that you need to pay. Additionally, think, and fix a time and date when the truck or the movers will be ready. Time management needs to take everything into account. That could also-
Best times to move to save money
Winters, months between October to April, weekdays, and the middle of the month are the best times to move cheaper. People consider moving out during summer because those who have children at home have a vacation at that time. But you can't easily hire vehicles or movers during this time as the demand for moving is high. Pricing will be high too.
But in winter people don't consider moving because of rough and hazardous weather. And it covers the month of October to April. On the other hand, weekdays aren't preferable to move as you may have an office or our kid may have school. So, in those times, the moving cost may become cheap as the demand is low. And the timing of the movers is flexible too.

Again, the middle of the month is another good option. The end or beginning of the month is quite rushed as the lease or timing of the rental contract finishes at that time normally. So, the cost may become lower in the middle of the month.
Scheduling packing by room to avoid last-minute disasters
A lot of work can be imperfect and messy if you rush to tidy up at the last minute, so you should start tidying up with a plan in advance.
All necessary and unnecessary things including clothes, and medicine packing should be done separately. Bring enough organizers and cartons for keeping books, kitchen accessories, showpieces, plants, and children's toys, or pack food items separately. As if easily found.
It will be better to do the work of patching one room at a time. Then you will know what is going on in that specific room, and it will be convenient for you to rearrange it later by going to a new place. Packing staff from the room, kitchen, and garden all at the same time will take more effort and time than doing it individually.
Checklist for Saving Money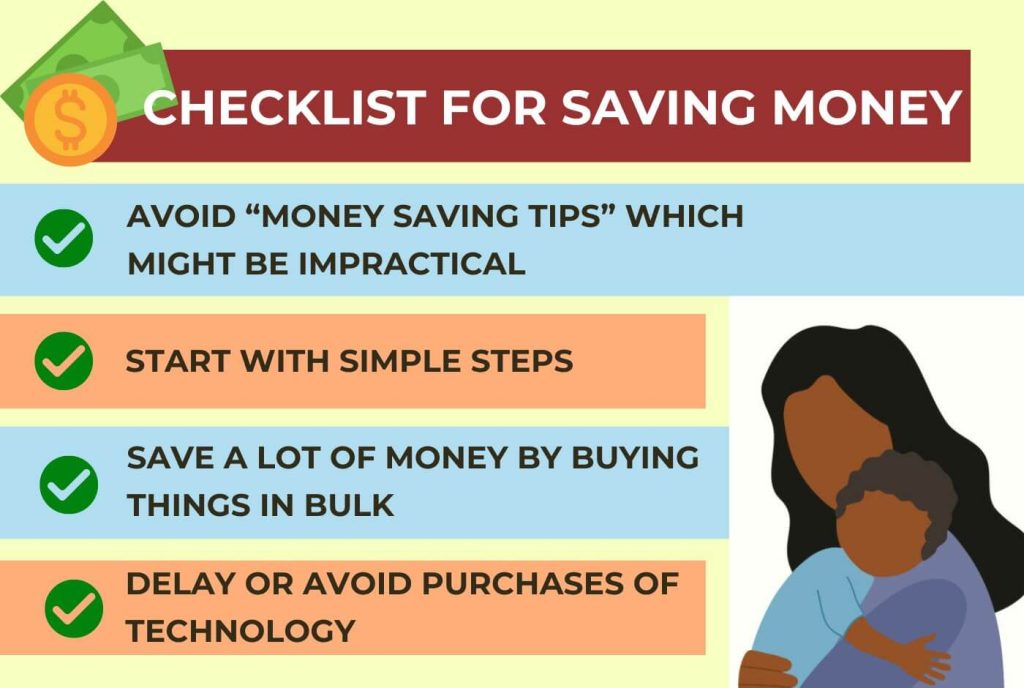 Have a basic idea of how you can save money so that you or your child don't have any financial problems during or after moving as a single mom out to another state. Here are some things you can do to save money are-
Avoid "Money Saving Tips" which might be impractical
Saving money depends on yourself first, then on any tips or other objects. Avoid the money-saving tips as much as possible, they are useless. These tips can include shopping at local stores rather than expensive malls, getting coffee at 7-Eleven instead of Starbucks, ditching cable subscriptions, and more.

By doing this, it is never possible to save a lot of money, but on the contrary, more double spending is done unknowingly, which is also known as false saving.
For example, if you don't take a cable subscription but spend a lot of time at the theater for entertainment for you and your child, you will find that your expenses are higher at the end of the month.

Without doing these, all essential expenses such as house rent, bills, taxes, transportation expenses, food expenses, and other monthly expenses should be kept separately, and the remaining small amount should be kept in the savings account.
Start with simple steps
By making a few tiny, straightforward modifications to your everyday routine, you can quickly enhance your savings.

For instance, you may simply prepare food at home and take it to work for lunch or on a trip instead of eating out, and you can make coffee, tea, or juice at home instead of paying for it at pricey cafes.
Reduce wasteful spending, such as buying things online that you don't need but like doing nonetheless. Using public transport is only one of the numerous methods to cut the cost of transportation.
Save a lot of money by buying things in bulk
If you have enough space, and no installation concerns, a large chest freezer is a reasonable alternative for saving money. You may save a lot of money by buying things in bulk since you can store them all in your sizable freezer.
Again, if you buy seasonal fruits or vegetables and keep them in the freezer, you may save a lot of money in the off-season because the price increases in contrast. But know that you could potentially reduce your electricity costs if a freezer has a high energy efficiency rating.
Delay or avoid purchases of technology
If you make an effort to reduce expenses, you will save a lot of money. Do you really need a new phone right at this time, if your existing one is still functional? Then save the money at your account; postpone beautifying the house at the present moment.

Since you must acquire your baby's essentials, lower the cost of other purchases and internet purchases to save money.
Stuffs Needed to do for Your Kids
Single mom moving to another state is not an easy task. You should keep your child in mind throughout the moving out. Prepare ahead of time for what to do before and after you and your child move to another state. The task includes-
Planning for child or baby-sitting during the move
When you're moving home, you will need someone to watch after your kid and make sure they are fed on time and safe because you can be busy.

You can compile a list of your family members or friends who are available for babysitting so that you can quickly ask them when required. Make careful to record if they are employed or whether they are available at that time by asking them. Nevertheless, you still have the choice to employ a nanny or babysitter.
For this purpose, try to know the authentic medium or review in advance. Now there are many babysitting apps or websites through which you can find sitters of different categories.
For example hourly, daily, or multiple-day sitters, special carers, and many more. These apps or websites include care.com, UrbanSitter, Bambino, Sitter Pro, Sittercity, SeekingSitters, Helpr, and many more. That can vary from state to state. Additionally, you can hire an hourly sitter that charges $12-$23 (one kid at a time), depending on the state.
Choosing the right school for your children
Before you move to a new place, plan your next move. One of them is to fix your child's school or preschool. Find out which school would be best for the baby's age or class or how far it is from your home.
You can easily know the review or service of the school you want to select from Trinity School, Mark's School of Texas, The Nueva School, Collegiate School, Pine View School, BASIS Mesa, Self Development Academy, and many more based on your suitable state or the state you are moving to.
Make the moving process enjoyable for children
Children may have trouble accepting a shift in place since they may not tolerate abrupt changes. So that they don't grow bored, the topic might be made simple for them. For this, you may include them in the job when packing, with their assistance, or by playing games and having them help you move anything.

Even while kids start to grasp these things at a young age and develop mental preparation for the environment that will change in the future, you may organize a goodbye party to distract their attention.
Decluttering Your Home
Even while cleaning your home may seem very difficult right now, it will make your next chore much simpler. Single mom moving is not an easy undertaking. What you could do is –
The importance of letting go
Avoid the dilemma of omission. Avoid the omission paradox. Get rid of the items taking up space that you don't need. For instance, any of your child's old toys or broken furniture, malfunctioning devices, or broken equipment. You can also donate your belongings to an organization so that someone can reuse them.
Maintaining these items will make cleaning your new house more challenging. To lessen these issues in the new home, declutter the old one today.
Tips for decluttering your home in preparation for a move
Start packing and decluttering simultaneously to make the jobs seem more feasible. Divide the content into these 4 sections to simplify the task and make it more technical-
i) Keep- Essential papers, any memory from your loved ones, cards. identification, clothing, outdated but acceptable electronics like lights or bulbs, and kitchenware.
ii) Donate or sell- Items you will never use again, such as used clothing for you or your children, books, old sectionals, air conditioner, heater, old glasses, outdated toys, extra mattresses. You can also donate the perishable foods that you can't carry.
iii) Throw away- Discard items that you will never use or that are unfit for reuse by others. It can be defective gadgets like toasters, hair dryers, or outdated copies of newspapers or magazines, as well as defective or out-of-date and expired commodities like frozen food or medical supplies. And any broken or damaged staff.
iv) Storage- Storage is the fourth step. Keep everything you might need in the future. Such as clothing appropriate for the season, later-useable decor, extra bedding, or something similar.
Choosing Your Boxes Efficiently
The choice of boxes is an important aspect of moving out. Because it may be used as a tool to organize everything, even your little items.
Advantages of eco-friendly plastic boxes
Plastic boxes keep your stuff safe. Even if you don't own it, you can take it on rent like Bronko Box. Here you can bring kitchen accessories or frozen items. By chance, there will be no problem inside the box even if there is water or something. Also, it may give protection to your staff.

Apart from that, they are very specious. And is usable again. 18″ – 24″ sizes are common. And can take it for 1 week for $2. However, size may also vary according to location.
Different types of boxes available in the market
Other boxes may also be utilized. for example, cardboard boxes. Take clothing, dishes, and other items from here. They are also rather roomy.

Additionally, there are several sizes available depending on the item, including 11″, 35″, much bigger fridge sizes, and smaller cup sizes. Prices range from $0.83 to more than $40. Once more, you may obtain books and decorations by using a wireframe cube. This can cost $14 for those that are open and $20 for those that are closed.
Labeling Your Belongings
One strategy for keeping track of objects and preventing loss is labeling. But following some tips on labeling can make it easier. The task may seem overwhelming but is easily manageable.
To make staff easier to find, such as the kitchen, bedroom, garden, medical supplies, children's toys, and others can be labeled with distinctive colors or numbers. Make use of a quality marker. For various item boxes, you may label them with various colors.

For example, use light green for kitchen accessories, paste for the dining area, and distinct numbers in various hues for bedrooms. For instance, purple color with number 2 for the second bedroom or red color with number 1 for the bedroom. If the same item appears in more than one box, divide the numbers by using the same color.
Additionally, it is practical to mark the box on every side. Because it can be hard to see and tough to discover if you did it on one side but not the other.
Hiring Reliable Movers
To relocate states, you should hire movers. However, before employing them, make sure they are trustworthy and safe. Because everything related to your move depends on them.
If you want to learn more about their service, you may ask your friends and relatives. Google some resources you might use for research. Additionally, you can obtain a general sense of the price. List a few businesses and make an effort to learn more about them. 
What services are being provided by whom? Some companies offer packing as well as moving and unloading, loading, and moving services. Service, travel distance, and task all affect the price. On average, this expense is $1400. between $800 – $2500 (however this price is for a moving crew of two people). If the team grows, casting will also increase.

However, it is better to avoid companies that make advance payments, there are risks here.
Transportation and Delivery
Although it will take less time, flying with your transported things is expensive. So, put your trust in the top Reliable Auto Shippers. You won't have to worry about anything else since they will complete your task on schedule and have the necessary documentation prepared for shipping. But that's a bit expensive.

So, leave the task on the movers, they'll move it with a truck and to avoid any danger, you may take the essential belongings with you.
Pre-move Etiquette with Movers
It's crucial to follow proper protocol while moving as a single mom if you want a positive end. What you can do is as follows-
Obtain cost estimates from various relocation firms.
Informing them of your impending move can help you coordinate your timetable.
Give the movers a list of everything you need to relocate.
Try to be accessible so that movers may contact you quickly with any questions.
Before relocating, make sure to pack everything carefully yourself and tip the movers nicely.
Allow the movers easy access to your house.
Let them do their task and give them your appreciation afterward.
Know Your Rights
You will have rights if you are relocating your belongings. But that is following a law. Find the item you believe to be missing before selecting the Consumer's Right option. You may now quickly obtain all the regulations and information from FMCSA. But try to get the mover, who has been licensed by TxDOT to avoid any extra headaches.

Moreover, you can report any scam or violation like a hostage, extra delivery charge, or late delivery on the said company as per the rules.
Budgeting for the Move
Your budget may suffer significantly if you move. You may do the following to prepare ahead of time for that-
Identifying realistic expenses and making an effort to stick to them.
Spending less on unnecessary things.
Understanding hidden costs of moving like the cost of boxes or some repairing costs.
Know about the insurance coverage options and fees of the moving company or any of your belongings and decide to take some help from it.
Packing supplies and fuel costs as much as possible.
Separate amounts for your old house and new house bills.
Exploring Your New Community
You are new to a new place, so you have to make acquaintances here. And you have to know what is around you.
You need to take efforts to acclimate yourself to the new location since you have a baby. You may do this by participating in various parenting organizations, taking your child to a nearby park, and inviting other kids around. You can rejoin the neighborhood communities there.

Also can take part in a variety of programs. There, you may interact more with your new neighbors. To strengthen the link and close the communication gap, you might host a housewarming party in addition to going to other functions.
Change Locks Upon Arrival
Change the lock before transferring to a new location since safety comes first. Additionally, verify that the lock offers enough security. Change the lock for your protection because you don't know how many keys the prior locker has or who has them. Of course, stop stealing as well. This is how you get decent, inexpensive locksmith services-
Ask your outside neighbors for ideas and do some research on the nearby ones.
Check out the deals and discounts they are providing.
Explicit regarding insurance coverage.
However, attempt to use the emergency and premium services.
Online Tools And Resources To Help With The Move
Moving becomes much easier and flexible with the touch of websites. You may get free and paid both options for making your moving easy from before planning to after executing with the help of these online tools and resources. Check this out-
Moving planning and outlining: You can create a proper and effective outline of moving with respect to time and the elements that you are moving. You can use –
Mint
Planner 5D
Sortly
Todoist
Squawkfox

Moving assistance: These may help you at the time of moving. It means here you can find a bunch of moving companies and you can easily compare them. As well, select the best one which fits your options. The sites are-
Get containers for packing: From PODS, Tidy Mom you can get several container sizes at your convenience to your door.
After moving solution: The apps help you to know the new neighborhood and find the new surroundings easily. Here you can use- TaskRabbit, Nextdoor.com.
Buying and selling: In your new resident or in the previous one, you may need to buy or sell essentials. It's now a click away from you. Open the app, select your desired options, compare them and confirm which you need to buy or sell. You can use Facebook Marketplace, OfferUp, AptDeco.

As a single mom, you can easily move out of another state with your baby and follow the above tips to avoid any hassle. We hope your experience is good. Apart from these tips, if you have any queries or want to inform us, you can let us know through the comments below.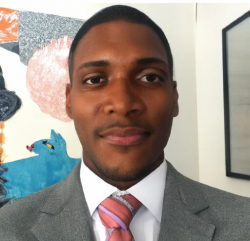 Latest posts by Brandon Pollard
(see all)