Yes, it's cheaper to move in the winter.
Actually, it's not a friendly season to move. Even on the 1st of this year, a winter storm spans 2,600 miles and about 23 million residents face storm warning. It can be said that moving in winter is going to be quite challenging for you.

But-but-but, good news for you! A statistic predicts that in winter the moving cost will be 30% off than in other seasons. And it's a bit easy to hire movers, maintain a schedule as well as chance to select the best offer among a lot of options.
Additionally, if you're going to move to Florida, then the severity of the seasonal hazardous problem will be less. As the weather isn't too harsh in Florida. Here you're going to know more interesting facts and behind the scenes of the cheapest season to move.
Advantages of Moving during Winter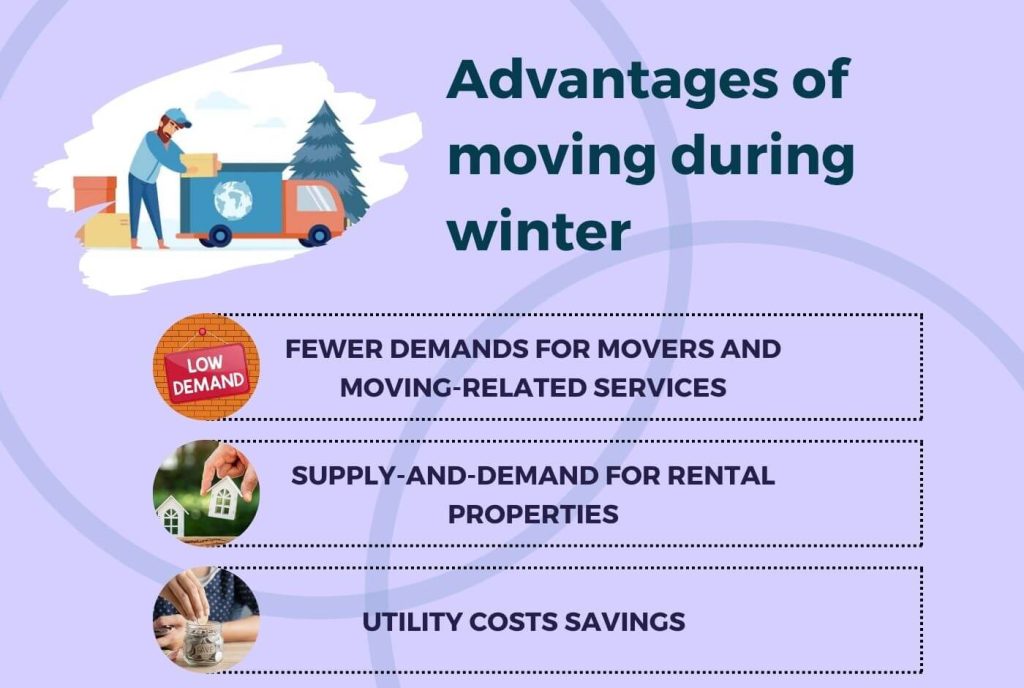 There is flexibility and scheduling with the movers, selecting the best offer, saving up to 30% overall cost, and less issue of time management as if you have a kid at home, then they will have a vacation.

In winter not only do you get movers at a cheap rate, but rental deals are also satisfying. Here are the details-
Fewer Demands for Movers and Moving-related Services
Hiring moving helpers is much easier in winter. As the number of people who want to move is less here, and the availability of movers is more. So, in short supply and demand are inversely proportional.

That's the reason why movers offer such options including 10% off for senior citizens, saving $3000 for long-distance moving, and many more, which movers are flexible to negotiate. But the same cost will be 3 times more in the peak season. At that time, movers don't easily agree to move at a cheap rate.
So, you can easily predict now, how winter is going to save you from a huge loss. Additionally, you can save more if you research properly about the movers. And be aware of any moving scams.
Supply-and-Demand for Rental Properties
In winter, the landlord may agree to rent with the best offer. The moving volume index in the off-season is about 35-40 less than peak season. Where in the peak season the index rises to 120 and on the other hand in the off-season it decreases to 80. And it happens from the end of September to January/ February. Where the lowest price can be available in January.
Additionally, the rent may drop to 1.7% less than during the peak season. The reason for this abrupt change is that in winter people usually don't want to change their residence as the daytime is less, hazardous weather, and many more. So, the landlords let the apartment rent within a flexible amount.

For example, a property can be sold at $217,703 in June (peak season) but the same property sold at $187,000 in January(off-season). That shows how off-season moving can help you to build a strong saving balance.
Utility Costs Savings
Winter can be the best season for saving if you utilize it properly. It's not only the season to save in moving and renting but also in household accessories and devices. You may save a huge amount by using the devices properly. Such as-
Switch to a LED bulb and smart thermostat because it consumes 75% less energy and reduces your electric bill by up to $460 yearly. As well as maintain your comfort.
Unplug the electronics that you are not using including any charger, mixer, and others. It may help you to save $200 on average cost for a year.
Let the sunlight come into the home and make air circulation easy by flexible the ventilation to create a friendly atmosphere inside the house naturally in winter. Instead of using a heater.
Risks Associated with Moving During Winter
Winter is the cheapest season to move but at the same time, there are some remarkable problems available. The threatening weather is the drawback of moving in the winter. The details are given below-
Risk of Inclement Weather Impacting Your Move Date or Time
Harsh weather can delay your moving. In winter there are many possible hazards including storms, heavy snowfall, and rain. As well, the duration of daylight is lower in this season. So, before hiring moving helpers make sure the day of moving is going to be friendly to move. Check the weather forecast for both your current and residential areas.
As well, know the road condition from the local management, if there are any roadblocks on your way of moving because of snowfall. After ensuring these things you can start moving.
Needing to Incur Additional Expenses due to Inclement Weather
Due to threatening weather, the total cost of moving may increase by 5-7% additionally. Here includes the mover cost, as movers were paid on an hourly basis.

So, delaying on the road during bad weather may increase their rate. Typically movers charge $25-$100 per hour. As a result, your total expanse may increase. Again the moving truck stack in the road and harm by any hazard, there also add a penalty fee for this.
Preservation of Your Belongings
Start it by reserving salt and sand on your both residences to prevent extreme snow. Snowblowers can be added to the list too. It's necessary to clean the walkway for transporting your belongings.
Use waterproof packing materials, such as plastic boxes, plastic and waterproof wraps, and waterproof labeling. It helps to secure your essentials like electronic items, clothes, books, and other household accessories. Also, you can use a trash bag to secure your clothes
Be extra careful while packing wooden furniture, mirrors, and art. Wrap it with plastic, then cover it with a thick towel. Lastly, secure them with a large blank to prevent any natural disaster.
In the winter, when it's chilly outside, fragile goods might grow more brittle. Therefore, if you are relocating during the winter, double box fragile objects.
For the electronic items try to use the original box of it, then pack it with bubble wrap and lastly use packing paper.
Tips for A Successful and Affordable Winter Move
‌Winter is the cheapest and hardest weather to move. But following some tips you can make the task easier for you and for the movers too. It includes-
Plan your moving 6 weeks before the time you want to move to avoid last-minute hassle.
Select professional movers, who are pro at moving in the winter.
Choose the weekdays for moving. To avoid weekend extra expenses.
Start packing early. So on the day of moving, you can save enough time.
Take preparation for the day depending on the weather forecast. It includes packing your belongings appropriately so that things won't get harmed by any hazards.
Set a backup plan to avoid any delay for winter snowfall or heavy rain.
Clean your walkways, driveways, and truck parking areas in advance to make the moving easier for the movers and save time.
Make sure to turn off any electronic staff.
Keep emergency prevention items – tire chains, tow rope, ice scrapers, extra window wipers, snow shovels, salt, extra warm clothes, and blankets.

In winter, you can save a huge amount on moving, rental, and property purchases compared to the summer season. However, there are many obstacles during moving due to harsh weather, and the duration of daylight is less. But if you check the weather forecast in advance and then start moving, you don't have to face any trouble and you can do the moving cost-effectively.
People Also Asked
Is it cheaper to move during the winter in Texas?
Yes, it's cheaper to move during the winter in Texas.
The rate of movers and rents is relatively low from September last to April. And the cheapest month is January. You can save about 30% more than the peak season moving. In that time, you can grab the best deal on moving, renting, and buying any essentials. Additionally, you can deal with the weather drawback by forecasting it and making decisions regarding this.
When is the best time to move out of state?
Summer is the best time to move out of state.
Winter is the cheapest and summer is the best time to move. As the weather and the day time is far flexible. And the chances of any hazard are almost zero. But the pricing of moving, renting, and buying houses, apartments, and condos is a bit high from May to September. Additionally, weekends and the last of any month are also good options for moving.
What is the best month to transfer to a new house in 2023?
June is the best month to transfer to a new house in 2023.

The weather is friendly now, and the duration of daylight is higher this month. And almost no chance of any storm or hazard, heavy rain. If you have a kid at home, it's their vacation time. And your working hours are flexible too. So, why delay moving? Start your process today.
What is the cheapest month to move?
January is the cheapest month to move.

As the ratio of moving desire people starts to decrease from the end of September and lasts to April. Where January is the coldest month but the cheapest one. You may select the best deal of movers, choose a suitable day as well and rent a house 5-7 times lower price from the peak season.