You can prevent moving company theft during moving by taking some basic steps. But remember that the movers of a well-known and reputed moving company usually do not do these things.
The statistic shows that by the end of 2022, the U.S. The Department of Transportation's Federal Motor Carrier Safety Administration received about 7,647 complaints about moving companies. Now you can easily understand how much you should be careful about each factor while moving.

You can prevent moving fraud effortlessly by taking a few proactive measures. It may include labeling, numbering, indexing all items, packing expensive items on the bottom and less expensive ones on the top, and many more. Keep reading our blog to know more details.
How to Prevent Movers from Stealing
Make a guideline by yourself and follow it from packing and moving to reassembling everything after moving. You will not face any problems while moving. What you can put in the guideline is-
1. Hire a Reputable Moving Company
Choosing a moving company is the most essential aspect of a safe move. Never fall for moving scams.

For example, those who want a deposit before moving, and companies that frequently change their company name, ask for extra fees. Avoid these companies because no authentic moving company licensed by DOT and FMCSA will demand these things. And check the reviews before choosing the moving company.
Additionally, a reputed moving company ensures safe moving to maintain its reputation and name. Some of the well-known companies are United Van Lines, International Van Lines, and American Van Lines.
2. Get everything in writing
When you hire a moving company or a mover, take all written documents to prevent moving fraud. As if you can take any legal steps with evidence if you lose any individual.

These may include inventory documentation, packing materials forms, bill of lading, protection plan documentation, a copy of "Rights and Responsibilities" and an estimate of overall expenses. These documents are applicable for both long and short-distance moving.

Check these documents keenly and if there is any form fill it with true information. But do not sign any blank documents.
3. Be present during the move
You should be present when the movers move things from your residence and loading on the truck. Also, must be there while unloading and rearranging your belongings at your new address.

In this case, you can take the help of your family member or friend because you can not be present where the truck is standing and inside the house they save time. Just as your presence will prevent your belongings from being lost, it will also ensure the safety of your belongings at the same time as you can give good instructions on what and how to carry things carefully.
4. Pack your valuables yourself
Pack your important and necessary items by yourself. Make sure to do it before the moving date.

This may include – your certifiers, cards, documents, cash, credit cards, information on your account, expensive jewelry, antique items, and more. They are most likely to be lost and stolen. So you should pack yourself, and try to bring these things with you on a moving day if possible.
5. Mark your boxes with a unique identifier
Mark each box you are putting your things in. And instead of random packing, pack one room at a time. Then your search will be convenient.

Also don't forget to do the numbering. For example, you have 5 boxes of kitchen accessories. So, numbers 1-5 on the box. And put this number in an index. This will reduce the chances of misplacing your things.
6. Use different colors of packing tape
To keep track of your items and boxes, use colored tape. Especially for small and medium boxes. For instance, put pink tape on the box containing the contents of the master bedroom, put red tape on the other bedroom, and put green tape on the box near the kitchen items.

That way you can remember and find it easily. And avoid being a victim of moving company theft.
7. Take pictures of your belongings before the move
Keep pictures of all your small things while moving. Take pictures of everything from your furniture to a small showpiece. And video it. Then it will be convenient for you to find and keep an account.

You can easily find things by looking at this picture while unpacking everything in the new place.
8. Inspect your belongings carefully before the movers leave
After the movers have delivered your objects to the destination, take a good look and understand. Whether all the boxes are coming, whether the packing of the box is correct, or whether it was opened. All are well looked after while the movers are in place.

Because once the mover leaves your place, they will not take this responsibility if you say something is missing. Also, take care that you will clear the full payment after moving is done.
9. Don't pay the movers in full until after the move is complete
As I said, after all the work of moving, such as loading, moving, and unloading, you will pay. Sometimes they may ask for advance payment, which you should ignore. Because it can be moving scams.

Again there is a possibility of theft. To get rid of these, you should not pay in advance.
10. Report Suspicious Activity or Missing Items Promptly
If you are experiencing any difficulties and want to take immediate action, you can call 911 and ask for help. You can also complain directly to the FMCSA Consumer Complaint Database if you lose something during the move if the movers don't maintain time, or if you have any problems with payment. You can also reach out to FMCSA at 1-800-368-7238.

The Better Business Bureau (BBB) can also help you. But make sure you have enough proof and evidence before making a complaint. And also you can make a complaint via email or live chat.
Things You Should Never Let Movers Handle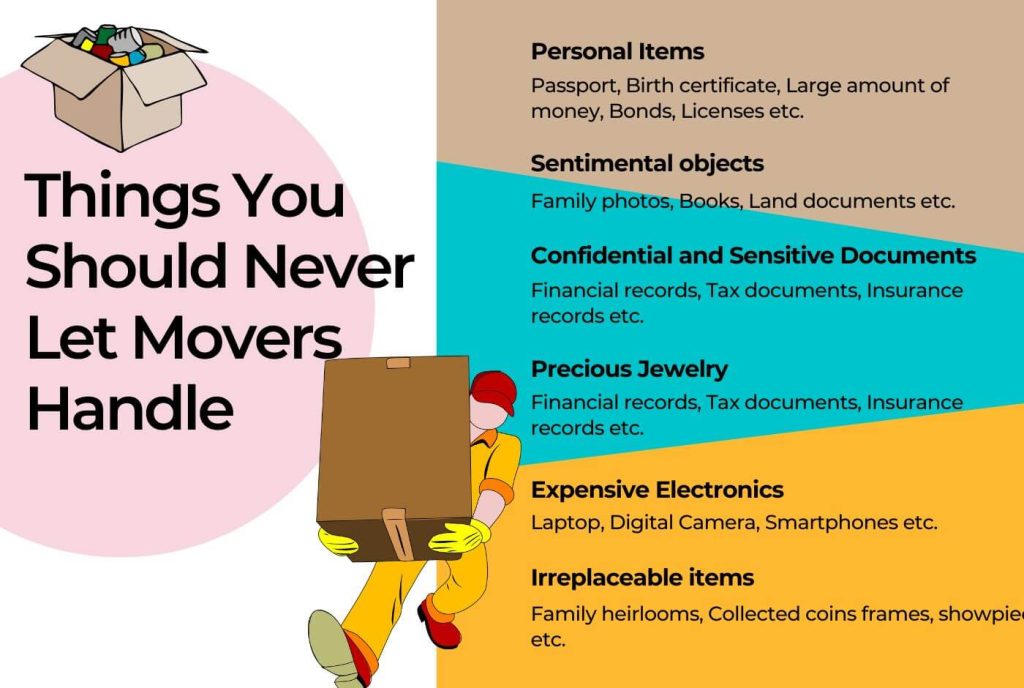 There are some belongings, to which only you have access. And for safety, you need to pack these things by yourself. It includes-
Personal items: Avoid giving access to your staff to the movers. Any misplacement of these items may cause extreme trouble. Even you may face legal problems. So pack your Passports, birth certificates, a large amount of money, stocks and bonds, licenses, and chargers yourself.
Sentimental objects: That may attach to your emotion. If you let the items pack by the movers and by any chance they lose or steal them. You can get it back. Even if the moving company pays for this, you can't be able to overcome the loss. Put your Family photos, books, and land documents in a safe box with you.
Confidential and Sensitive Documents: Documents are more sensitive than anything else. Not only the time of moving but also other times try not to give your documents to anyone. But if needed such as you need to buy a condo, then there's required your tax return. So here you can give them to the management.

But here in the time of moving, your movers have no work with them. So, pack your Financial records, legal documents like the copy of tax or tax returns, proprietary business information, and insurance records separately.
Precious Jewelry: Expensive and aesthetic ones that you may not get now. They're valuable and rare too. So, keep them with you.
Expensive Electronics: There needs special care while moving. If the mover loses any parts of the item or steals, then it will be difficult to replace. Try to pack your laptop, digital camera, smartphone, grill, or any of your favorite lamps by yourself.
Irreplaceable items: One-of-a-kind items like Roy Orbison, George Harrison, Tom Petty, Bob Dylan, Jeff Lynne vintage guitar signed, family heirlooms, coins, vases, frames, and showpieces. They play a vital role in your mind. If the movers steal any of them, you can't get them back. So, take steps in advance.
Additional Tips
Moving out is a bit of a complicated task. And it becomes more complex when the movers create issues like stealing, not maintaining scheduled time, and others. Here are some out-of-the-line tips for you to make moving more flexible-
If you are moving a long distance, consider shipping your belongings instead of hiring movers.
Avoid spreading the news that you're moving.
Pack the essentials before the moving day.
Try to be available and present on the spot when movers move your belongings.
Hire the movers and book a schedule in advance to avoid last-minute disasters.
Ask for help from your family or friends for presenting them with you on the moving day.
Try to learn the state rules. It may vary from state to state and make moving easier.
If you are packing your belongings, be sure to pack valuables in sturdy boxes and mark them with "Fragile" stickers.
If you are hiring movers, be sure to get multiple estimates and compare prices.
Don't be afraid to ask questions about the moving company.
Does the moving insurance policy cover my belongings if they are lost or stolen?
Yes, the moving insurance policy covers your belongings if they are lost or stolen.

However, the kind of moving insurance you choose will determine the precise coverage you get. Such as the full value protection will pay the full replacement cost of your possessions up to the policy's limitations. It's critical to thoroughly study the terms and factors of your moving insurance policy to determine what is and isn't covered.

Try to contact your insurance provider, as well as your moving company, if you have any queries regarding moving insurance.
Moving is hard work. Moving companies' theft makes the work more difficult. But by keeping in mind the tips, packing rules, and things to note while hiring movers, you can easily complete your moving out safely.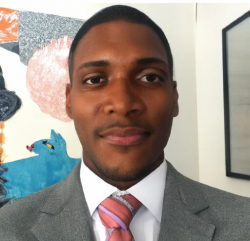 Latest posts by Brandon Pollard
(see all)