Yes. of course you can hire movers for just furniture.
If you need a mover for moving out, then why not just move furniture? It's also an important and hard task of moving furniture. A recent report claims that about 80% of Americans prefer to hire movers and 95% are able to move belongings on time. 
And the movers won't just charge for a single piece of furniture but they may charge hourly and according to the weight of the furniture. Movers can make it easy not only to move furniture within the house but also from one place to another. Also make it hassle-free, safe, and time-saving.

Explore the blog to know more about the fact and find why and how it's beneficial for you.
As most of our household furniture is heavy and bulky. So, it needs to be moved with proper protection and safety for you as well as for the furniture. And they require some tips and techniques as well as equipment to make the task easier.
And it can only be done smoothly with the help of professional movers. Because they know the proper technique and available equipment for the single item moving. Suppose you need to move your piano, do you have a piano blanket and dolly for safe moving? There is a high chance of not having it. 
So, it's easy and hassle-free to hire a mover for the task and they may cost $25 per hour.
When to Hire Movers for Just Furniture?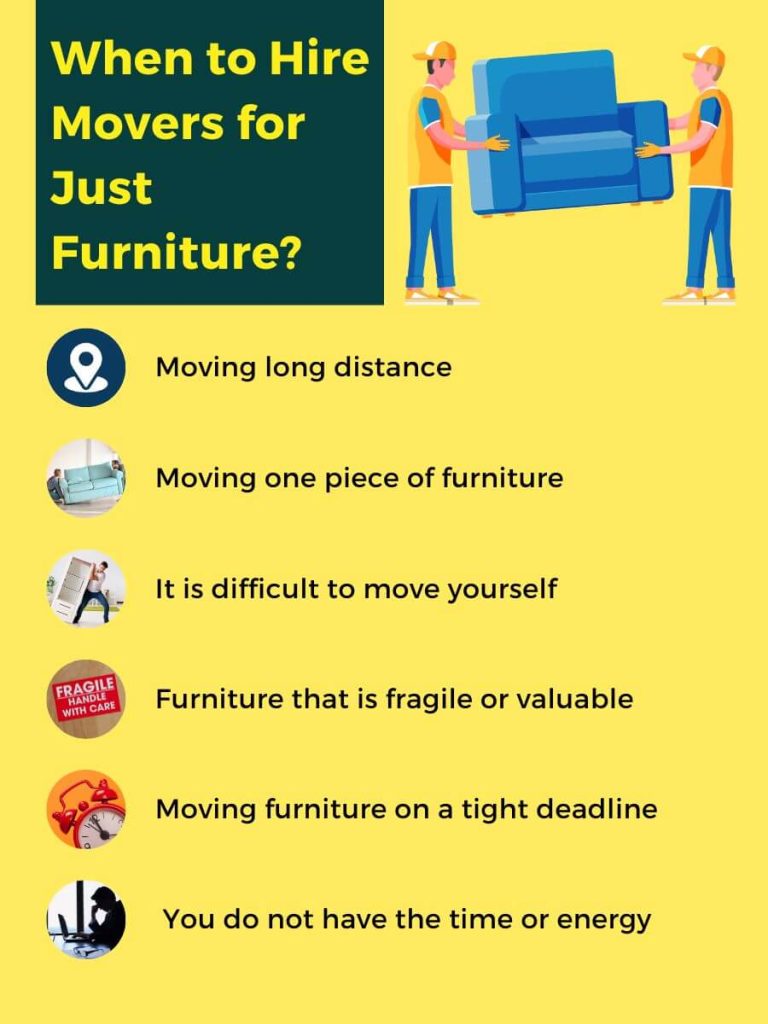 For a long distance moving, short time moving, when you don't have enough time, energy to move a single stuff then you can hire a mover for just furniture.
You can't pack, assemble, lift, or shift your belongings all alone. It must be time-consuming and frustrating. Make the task easy with the help of movers. Know when you can hire movers for one item-
Moving long distance
If you are moving long distances even with a single piece of belonging, it can be difficult to arrange a suitable vehicle for moving as well as loading and unloading it. It can be done quickly without thinking about anything with the help of movers.
Moving one piece of furniture
Small item movers may help you out in that case. It doesn't affect the moving with the number of items you move. Usually, it depends on the weight of the item and the time of moving. According to this the number of movers assigned for the task.
It is difficult to move yourself
There might be several heavy and bulky pieces of furniture you have and need to move such as grills, pianos, and huge artwork. In that case, you can't do that alone as they need techniques, especially moving equipment including a dolly and hand truck.
In that case, movers know the tips and have the required equipment to make the move easy. So, hiring a move may be a perfect decision.
Furniture that is fragile or valuable
Here includes the anti-pieces of art or any kind of showpieces, frames, and many more. It's a wise idea to ask for the help of movers as they may have the proper packing items including boxes, tapes, and wrappers.
Moving furniture on a tight deadline
Moving is a time-consuming task sometimes it requires weeks to execute. Movers may help you out in that case too. They take all the responsibilities to load, unload, pack as well as move one item of furniture.
You do not have the time or energy
Even a single move needs a proper plan and manpower. That can be challenging too as you may not have anyone free to move your stuff or you don't have enough time and ideas for planning a move. Leave all your requirement to the mover and they make it execute for you.‌
Benefits of Hiring Movers for Just Furniture
Most of the time movers make your tasks easy, within time, hassle-free, and safe. Let's have a detailed look at this-
Minimizing physical strain
Most of the furniture is bulky and heavy. So, it can be possible that you need to move on to the heavy ones. And you can't make that alone. Movers can rescue you from trouble as well as save your physical strain as the movers have enough resources.
Time and energy savings
You don't need to plan, hire a truck, or do any other thing regarding the moving. As movers are here to help you. They'll do everything to make the move on time if you bound them with an estimated time. And moving ends up saving a lot of time and energy for you.
Protection for your furniture
Movers have better security and handling training. They may ensure the protection and safety of the furniture during uninstallation, loading, transportation, unloading, and installation. As well, some companies may offer you insurance even if a single item is moving.
Insurance coverage
Insurance! Yes, another good news for you is a well-known moving company will offer your insurance even for a single item moving. The insurance covers any kind of damage or scratch on your belongings.
What do I need to know when hiring movers for just furniture?
Start with finding a reputed moving company, the condition of your furniture, cost, the insurance policy of the company, your expectations, and many more that you should know when hiring movers for just furniture.
Cost factors
Try to evaluate several companies to compare the pricing and service. Most of the time movers charge $25-$50 for an hour. And moving costs may vary from the weight of the furniture to the distance where you move.
Try to estimate the total cost including the cost of movers, transportation, and additional fees.
Furniture condition assessment
Know ins and outs about your own furniture even if moving one piece of furniture. That may include-
With the majority of moving companies, good-condition stuff will not cause any issues. Yet, you must let the moving crew understand whether you have any damaged, delicate, or vintage items to ensure that they take extra precautions.
Any destruction of the belongings which is currently present is not the responsibility of the movers. Whenever movers arrive, you ought to snap photos of the remaining damages. That helps you in the future if there is any other damage.
Additionally, try to find out if they are taking furniture pads with them or what precaution or safety appliance they are going to use.
Communication with movers
Try to be specific on what's supposed to be shifted. That covers the sort of furniture, its state, or any specific requests you may need.
Describe the layout of the place where things are moving. It will assist the movers in organizing the transfer and preventing any belongings from breakage.
Insurance coverage and liability
Know the form of insurance covered by the movers. If they offer realized value insurance then it covers the cost of replacing your furniture according to weight, not its real value.
In full value protection, you may get the actual value of your furniture in case damage happens.
If you are lucky enough while choosing a moving company then you may get some who offer additional coverage too for the antiques and expensive ones.
How to Hire Movers for Just Furniture
With a proper search online, website, and reviews from the user you can get hired, and with explaining all the essentials and knowing the ins and outs you can hire movers for just furniture. Here is a guideline for you to make the task easier-
Requesting quotes and estimates
Try to have quotes from multiple moving companies. That may help you to understand the difference between prices, services and choose the best deal for you. You can get quotes from previous reviews, online, over the phone, or by visiting them in person.
While getting quotes let them know your expectations and requirements and find out the estimated cost that may be non-bound or bounded costs.
Researching reviews of different companies
Google the reviews of different companies. Choose a company that has high ratings.
But don't forget to look at their establishing date. If it becomes high rates within a few months or weeks then that is a high chance of scam.
Too high or too low ratings have something fishy. Also if any company changes their name frequently try to avoid them too. Go for reputed ones.
Reading company's insurance policy
Know the insurance thoroughly. Find out the amount of coverage is its full value or released coverage.
Know the rights of your if any damage, scratch, or misplace are done by movers. And now the insurance for this case.
Have an idea about out-of-pocket expenses and their coverage policies.
Make sure the company is licensed and insured
Find the DOT number of the moving company. It is a unique identifier that is assigned to all licensed moving companies. You can verify the number by checking the FMCSA website.
It will also get you to know about their authenticity and license. View online reviews to ensure your safety.
Be clear about your expectations
Let the movers know about all your expectations and requirements. Pinpoint all the things you need while moving. Get a hard copy of documents while hiring a mover.
People Also Asked
Can movers move one piece of furniture?
Yes, movers can move one piece of furniture.
Several companies provide this facility at a cheap price, known as small or single-item movers. They may help you from the disassembling of the furniture to assembling it at the destination place including packing, loading, transporting, and unloading. They take care of all the things.
Can you hire movers to rearrange furniture?
Yes, you can hire movers to rearrange the furniture.
You can find some moving companies offer only rearranging services. They come to your residence and provide labor to rearrange your stuff. And charges according to the hour or thing they have done for you.
Do most movers pack furniture?
Yes, most movers pack furniture.
If you call for full-service movers, they will pack furniture for you including grills, piano, tables, and large desks. As professional movers, they know how to pack and not harm your stuff. They can provide you with all the facilities including packing, loading-unloading, transporting and so on. 
Do movers bring furniture pads?
Yes, movers bring furniture pads.
To ensure standard moving service, they bring furniture pads with them. They use these pads to protect and cover your furniture from damage during loading, unloading, transporting, and lifting. Most of the time paddings can be done by blankets.
Do movers load boxes or furniture first into the truck?
Movers load furniture first into the truck.
Most professional movers load furniture first into the truck, then boxes. As furniture is heavier than boxes and difficult to move such as TV, grills. So, it's a wise decision to get it loaded into the truck first. Also it saves space for the light ones. Because you can put the light boxes on the top of the heavy one.
Do movers take apart furniture and put it back together?
Yes, movers take apart furniture and put it back together.
It is very necessary for large and bulky ones such as bed frames, dining tables, and wardrobes because it is difficult to move the whole section at once. In addition, to protect from damage it is also needed to disassemble the large furniture before moving. But it needs to be noted that the movers will charge the normal rate if the moving is under 100 miles, and an additional charge may be added for it if the moving is above 100 miles distance.
Moving is always a daunting task no matter if it's moving furniture within the house or outside the house. The effort, equipment for protection all are required in both cases. We've learned the entire pros and cons of hiring movers including the facts, reasons, ways of hiring till now.
Whether you want help moving a single piece of furniture, or an entire roomful, there are movers who will be happy to help. And in many cases, it can be worth hiring movers for just furniture, especially if the furniture is heavy, bulky or difficult to move.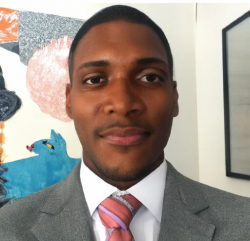 Latest posts by Brandon Pollard
(see all)