With some research and online searching, you can easily find an apartment while moving out of state.
A report from the US Census Bureau shows that 7.9 million Americans have moved out between states in 2021. Now the number is significantly high. So that explains how moving out is such a frequent topic here. But one essential thing in the new place is a suitable apartment for you. Because how easy and flexible living in your new space will depend on a good apartment.

These rental apartments should be within your budget, with amenities like a pool and parking. As well located in a good location from where you can go to school or the office or have an easy transport system or supper shop. Today's discussion is about the ingredients of finding this apartment.
#1 Know Your Budget
Budget is an important thing when selecting or looking for an apartment. If your income is A, but you look for an apartment whose rent is 3 times the value of A, then it will not be worth the price.

Moreover, you have to pay not only rent from your income but also managing fees, parking fees, bills, and others. You have to budget in such a way that your annual income is 40 times more than 12 months' rent.
For example, your monthly rent is $2500. So, in 12 months $2500x 40 = $100,000, you need to earn.
Moreover, in the beginning, you have to pay, your rent for 1st month + application fee + broker fee + condo fee + other expenses
where the applying for an apartment fee can be $25 – $50. (Sometimes it expands to $100)
The broker fee isn't always mandatory. If you choose any "no fee" apartment, then there's no need to pay the brokers.
If you're moving to a condo then you should pay $1000-$1200. But for an apartment, there is no need to pay for this.

Additionally, your moving costs are a minimum of $10,000. Or more than $25,000+. Keep the preparation like that. Along with this, it is better to save 3-4 months of income as well more in advance for your safety.

You can also follow the 50/30/20 rule for budgeting when 50% of your income is allot for monthly necessities like rent, bills, fees, 30% for secondary needs like gym fees, outside snacks and the rest 20% for saving or paying off debt.
#2 Researching and Preparing for the Apartment Search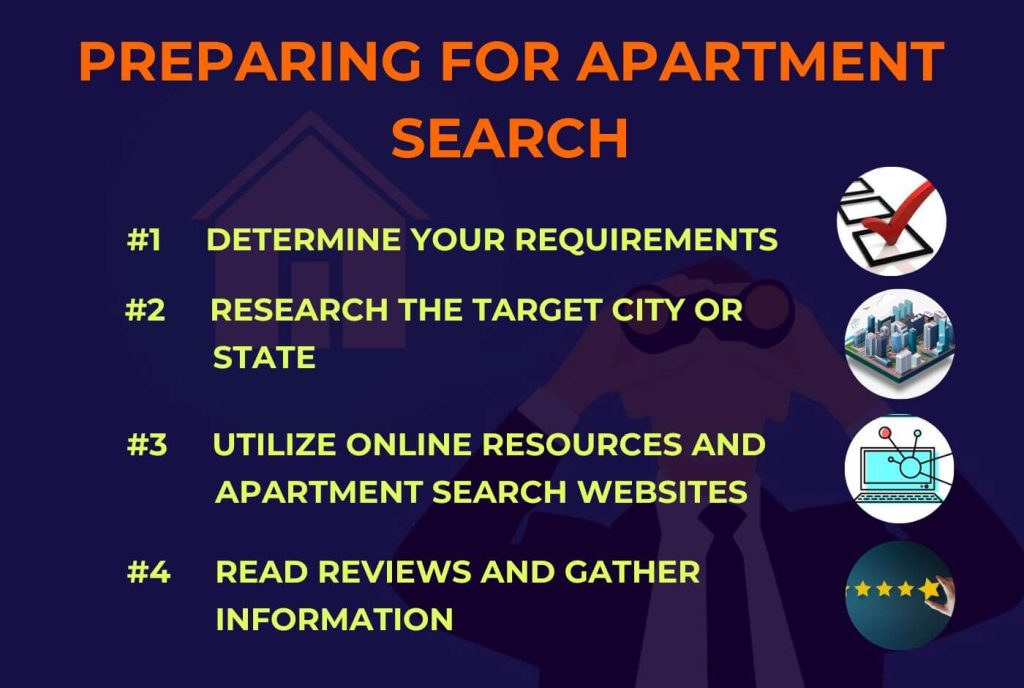 Finding and renting an apartment isn't over with costing and budgeting.

The apartment must have enough space for you to store your belongings, and ask for a balcony to enjoy the surrounding view, number and size of the bedroom and the location where you are selecting the apartment are also essential to check. 
Suppose you choose an apartment on cheap rent, but you don't get parking facilities, other transportation is far from your place, and your workplace or university is far away. In that case, the money you will spend on transportation and other expenses will be more expensive than the area where you will get these amenities.

More details are given below-
i. Determine Your Requirements
If you are looking for an apartment alone or with your partner, then a 1 bedroom apartment is sufficient.

If your budget is more, you can go for a 2 bedroom apartment. But 1 bedroom should be preferable for many. As it is spacious enough, about 700-780 square feet. If you have a pet, the space will be enough for them too. Moreover, here you can check whether there are two types of amenities present or not.

For community amenities, you can check pools, gyms, parking, spa, playgrounds, walking paths, pet-friendly spaces, parks, and elevators.

And for apartment amenities, you can check if there is present central air conditioning and heating, a balcony, large bathtubs, a wooden floor, an open kitchen, and others.
ii. Research the Target City or State
Decide the place and state depending on what you study or your job is moving for. As long as your budget is good for you to stay there, get other faculties as well.

Choose the location so that the distance from your organization is less or easy to get transportation, the super shop is nearby, and the area is not overcrowded. The environment and people around you should be good. Because how well you live in a new place depends on your neighborhood.
Here you can easily get apartments in Iowa, Tennessee, and Alabama at a low rent of about 13%-15% less but here you will get limited facilities of work scopes, and good educational institutions. Again in New York City, San Francisco, you will find many workplaces and institutions but living here is a bit expensive.

However, it is more or less in some areas. Manhattan is the most expensive 1-bedroom renting apartment is $4200+ but here you will find all kinds of amenities at your fingertip. Again in Queens, you can find apartments under $1,100. In short, you have to find a place keeping such details in mind.
iii. Utilize online resources and apartment search websites
State wise few resources and websites are given below-
State
Online resources/ Websites
New York
NY Rent Own Sell
StreetEasy
Renthop
Zillow
Apartments.com
Los Angeles
Westside Rentals
Apartment List
Apartments.com
HotPads
Rent.com
Zumper
Craigslist
Trulia
Florida
Florida Housing Search
Realtor.com
Florida Apartment Association
Zumper
Texas
HAR.com
AustinTexas.gov
Apartment Finder
Texas Rent Relief
Ohio
Ohio Housing Locator
Ohio Housing Finance Agency
States and websites for movers
Here you can get the best one among many relevant ones. Try to meet your needs like the size of the apartment, your budget, amenities, and extra preferences such as a wooden floor, a long balcony, and many more. And select the best apartment for you.
iv. Read reviews and gather information
Apartments out of state are not always good. Be sure to know the history of the apartment you choose. Check out reviews from websites or online. Hear from those who have lived before. And of course, value their words.

An apartment meets all your needs but the reviews are not good. You should avoid such apartments. Again, if you think the apartment is not good but its review is quite satisfying, in that case, you can think about whether you can take that apartment again.
#3 Communicating with Leasing Managers and Landlords
If you like an apartment, you can know more details and solve confusion by talking to the current managers or lease managers. More is-
Contact the apartments
Provide details about your Income, credit score, and move-in date
Possible visit in person
If you can't visit in person. Then choose a 3D option
Ask total gross rent
Find the things that cover by your insurance
Know about the fees you need to pay every month
Set a period of your living. It can be years, months
Know about the amenities.
#4 Application Process
It has to be done very carefully and accurately. Must give the right information and authentic reference. See details here-
i. Completing application forms accurately and honestly
This is the first step. Here is your name, number of any reference, ID number, present address, contact number, Email address, emergency contact number, and weight of Pets (if you have one). These must be filled out accurately. It usually takes 1-3 days to approve the application. And approximately a $30 fee is needed for the application.
ii. Providing all required documents and references
Documents include your bank statement, proof of earning sources, guarantor's bank statement if any, id cards, bank statements, letter of employment, security documents, insurance documents.
For reference, you can give recommendations from your preview landlord, a reference letter from your employer, or any relative.
iii. Most Important: Show Your Pay Stubs
It includes information about your employment, including your name, social security number, and address. And employer information, including company name and address. Also, your gross earning, tax returns, and related documents regarding this.
iv. If Possible get a Guarantor or Co-Signer
When you aren't employed, or you don't have enough funds to show, then you can get a guarantor. The guarantor must be someone from your family or friends. And their wages need to be 80 times of your rent for one year. And they should have proper documents.
#5 Secure Your Apartment
You have to secure the apartment with a certain amount and documents. If not, someone else will take it before you. You can ensure the place by showing your income or your guarantor's income 40x and 80x of the annual rent respectively.

In addition, your account must show a good credit score of $700 or more, an employment document from your employer, bank statements, and your last 2 years of tax returns. Apart from this, the money you need to pay is-
First month's rent – $1,700 or more depending on the size of your residence, and location. This is considered a security deposit.
Last month's rent- It's taken by some landlords. But not mandatory.
The application fee is $25-$50 per person. In many expansive areas, it can be as high as $100.
Broker fees- If you see a no-fee apartment. Then you don't need it. It is given by the landlord.
Wifi bills and cable bills may take to advance in many places.
#6 Got Accepted! Prepare for the Move-in Process
If all your applications and payments are submitted correctly, you will get the apartment. So, the next step is to move from your previous residence to the new one.
First, talk to the management or Landlord of your new apartment to decide when you will move in and start living there. Clean the place before the move-in day and fix the security changes.
Immediately start packing up your previous place. And talk to the moving company about moving to fix the mover, pricing, and date.

An apartment is the most important thing for moving and renting out of state. Start looking for an apartment first when you think about moving. Depending on your budget, location, standard of living, and amenities of an apartment – select one by thinking about these things. Confirm the documents and payments and make a proper outline for the move. We have learned all the details above till now.
FAQ
How to get an apartment when relocating without a job?
With the help of a guarantor or a recommendation letter from the previous landlord, you can get an apartment when relocating without a job. 
The yearly income of your guarantor must be 80 times your one-year rent to secure your rent. Suppose your monthly rent is $3000. So, the earning of the guarantor must be $2,40,000. The guarantor can be your parent, partner, or sibling. And the person should submit the bank documents too.
On the other hand, if you don't find a guarantor, you can give a recommendation letter from your previous landlord about your good residence and no issue of rents.
How to get an apartment without proof of income?
By attaching a good credit score, with the help of a guarantor, and providing legal documents- you can get an apartment without proof of income.
If you have a good credit score, such as paying your bill on time and never closing old cards, it will help you to get an apartment. Guarantors may also help you if they have enough income and documents to show.
Additionally, show your previous tax return statement, income letter, social security letter, and insurance- it'll also be a plus point to getting an apartment out of state.
How to get an apartment in NYC without a job?
You can get an apartment in NYC without a job by getting a guarantor, staying with a roommate, a recommendation letter from the previous landlord, and attaching a credit letter and personal loan documents.
If you're able to show legal documents of these things. And if you can prove your good rental history, then you may get an apartment. Also, try to find a private landlord in NYC, they don't even care about your employment.
Is it hard to find an apartment in NYC?
No, it's not hard to find an apartment in NYC.
But you should have a strong bank balance and legal documents. The rent in NYC is a bit higher than in other states. And the apartments are popular too. So, you need to make a fast decision after selecting an apartment. Otherwise, there's a high chance of losing it.
How much does it cost to move apartments in NYC?
It costs $1000+ for local and $2500+ for long-distance moving apartments in NYC.
Movers here charge $150-$250 per hour, but this fluctuates based on where, how far, and what you're moving. If it's a 1-bedroom and 2-bedroom apartment, the moving costs are respectively $1,200 and $1,500, but it's likely to be slightly higher depending on the time.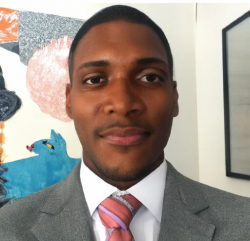 Latest posts by Brandon Pollard
(see all)