No, if you hire movers the FMCSA doesn't license, you could be at risk of scam, theft, damage, injury, or loss of your things. The national average cost for packing services is $60 – $80.
One way to protect yourself from moving scams is to choose a company that has FMCSA issued authority. The Federal Motor Carrier Safety Administration (FMCSA) is a federal agency that regulates interstate moving companies.
Only companies that have been approved by the FMCSA can legally operate interstate moving services.
Understanding FMCSA Authority
FMCSA stands for the Federal Motor Carrier Safety Administration. This government body oversees companies that move people from one state to another. FMCSA authority is a license that shows a mover is authorized, insured and meets government safety standards.
Why is the power of the FMCSA necessary?
Because it keeps you from hiring illegal or dishonest movers who might try to rip you off, damage your stuff, or hold it hostage for extra money. The FMCSA also has the power to ensure movers have enough protection in case of accidents or losses.
How can you find out if the FMCSA licenses a mover?
You can look up a mover on the FMCSA website by name, USDOT number, or MC number. If you want to check a mover's progress, call the FMCSA hotline at 1-888-368-7238. You can also ask the mover for a copy of their certificate from the FMCSA.
What if a mover doesn't have permission from the FMCSA?
If a mover only works in one state, they do not need to be licensed by the FMCSA. But they still have to follow the rules and licensing standards of the state. You can learn more about your local movers by calling your state's consumer protection agency or attorney general's office.
If a mover works in more than one state without permission from the FMCSA, they are breaking the law and putting you in danger. You shouldn't hire these movers and let the FMCSA or the Better Business Bureau know about them. Hire FMCSA movers for legitimacy.
You should also look for other signs that the movers are not real, like:
Asking for a significant down payment or payment in cash up front
Giving you a low quote that sounds too good to be true
Not giving you a written contract or list of items for sale
Not having an actual address or a business name
Using rented trucks or trucks with no signs
Not answering your questions or giving you any references
How can you tell if a mover has FMCSA-issued authority?
This agency regulates moving companies across state lines and ensures they follow safety and customer protection rules. FMCSA registered movers are instructed to imply all the moving rules.
Here are a few ways to find out:
Ask them what their MC number is
This is the unique number that FMCSA gives to each driver who is allowed to do so. On the FMCSA website, you can use this number to check their information and status.
Look at the database SAFER
This public online tool lets you look for movers by name, MC number, USDOT number, or address. You can see their safety ranking, the history of inspections, the history of complaints, and more.
Ask them for their USDOT number
This is another number that the FMCSA gives movers who drive commercial cars across state lines. You can also use this number to look up their record and state on the FMCSA website or the SAFER database.
Ask to see their FMCSA license
This paper shows that they have been given the right to operate by FMCSA. It should have their name, location, MC number, USDOT number, and the type of authority they have (household goods carrier, broker, etc.).
Make sure they have insurance
Movers must have enough liability and cargo insurance to cover any damages or losses during a move. You can ask for a copy of their insurance certificate or look up their insurance details on the FMCSA website or the SAFER database. FMCSA registered movers won't hesitate to show these.
Look for their permission to do business
They have to put this sticker or decal on the back of their cars or vans. It should have their name, MC number, USDOT number, and the type of power they have. 19 million U.S. renter households spent over 30% of their income on housing.
What are the risks of hiring a mover without FMCSA-issued authority?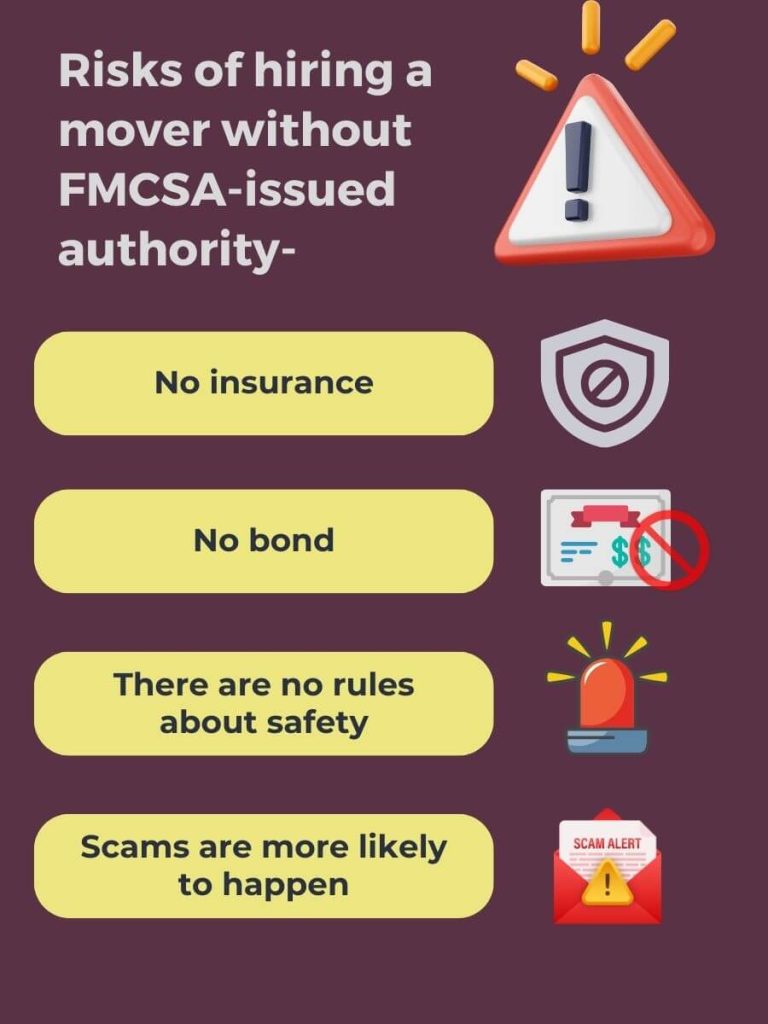 FMCSA movers is so essential. Because it means that the mover has met specific safety, security, and financial responsibility standards. If you hire a mover without a license from the FMCSA, you are taking a huge chance.
Here are some things that could go wrong if you hire a mover without a license from the FMCSA:
No insurance
If the mover breaks or loses your stuff, you may not be able to get any money back. The mover may not have protection for liability or cargo, or they may not have enough coverage. This means you will have to pay for the fixes or replacements yourself. These can be called FMCSA illegal movers.
No bond
If the mover doesn't bring your things on time or at all, you might not be able to get your money back. It's possible that the buyer doesn't have a bond or trust fund or that they don't have enough money.

This means that if the mover breaks the deal or goes out of business, you won't be able to do anything about it.
There are no rules about safety
If the mover works unsafely, you could endanger yourself and others. The mover might not follow the safety rules and laws set by the FMCSA, such as the qualifications of drivers, the number of hours they work, how well they take care of their vehicles, and drug testing.

This means that crashes, injuries, or even deaths could happen while you are moving. Why on earth any FMCSA illegal movers would care for your safety?
Scams are more likely to happen
You could be a scam victim if the mover is not qualified or regulated. The mover could charge you secret fees, hold your things as ransom, ask for more money than you agreed to pay, or just take off with your things. This means that you could lose your money and things without being able to do anything about it.
Case Study: Victim is Still Crying for Her Possessions
A Newsweek review found that at least 18 companies with complaints filed against them and their licenses taken away for different reasons in the second half of 2022 kept advertising interstate moves in June. Some people had their licenses taken away because their insurance ran out, not because of the report.
The Federal Motor Carrier Safety Administration of DOT did not say if it is against department rules to keep advertising interstate moves after a license has been canceled. Instead, it said it would look at each case on its own. A statement said that the agency is evaluating the more than 100 cases that were started during Operation Protect Your Move and that the results will be made public.
"Companies are expected to stop related operations if their authority is revoked," the statement said. "This is similar to how people are expected not to drive a car if they lose their license." "If FMCSA finds out that a broker or mover is still doing business after the agency has taken away its license, we may take more administrative steps." FMCSA has no power to punish criminals."
DOT's Federal Motor Carrier Safety Administration officials can't arrest or fine moving companies for breaking the law. Since January 1, 2017, they have worked with the Justice Department to bring only 13 criminal cases and 6 civil cases against moving companies. Between 2015 and 2022, complaints against moving companies went from 3,030 to 7,647, a more than 100% increase. Of these, 3,644 were about a "hostage" situation.
When Kai answered the phone at Pro Smart Movers in Alexandria, Virginia, in May, he said he was the boss but didn't give his last name. He said the company had made some moves across state lines this year. The company's license was removed in December 2022, and seven FMCSA reports have been filed against it.
Kai said the firm's business in 2023 has slowed since last year. If they had hired FMCSA registered movers, this might not happen.
Antsonsen hopes to get her things to Puerto Rico one day, but she worries about how her boxes are being handled and if any of her things have been broken. As she talks about what happened with her move, her feelings get the best of her.
"I'm fighting the system that's supposed to help the consumer," she said.
Hiring a mover with a license from the FMCSA is a bright and safe way to move. Checking the credentials of your possible movers online or by calling the FMCSA hotline can help you avoid scams, frauds, and damage. Know how accurate moving estimates are.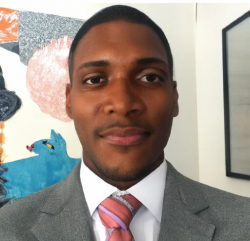 Latest posts by Brandon Pollard
(see all)