Usually during the week, at the beginning of the month, off-season October-April, if you move during this time, the cost will be reduced to a large extent.

A 2020 study by US Moving.org found that 20% of people moved from one state to another. Which increased by 6% in the following year. And looking at the current picture, a report from the Census Bureau shows that 1.7% of new people moved to Florida last year. Then you understand how hotcake the topic is moving.

But the issue of casting often gets stuck here. Which can be reduced by following some tricks. Like selling old things, picking cheap packing materials, and choosing a good time to make moving cheaper. Moving costs fluctuate a lot with this fact of time. Detailed information is illustrated in this blog.
When is the cheapest time of year to move?
Late October to late April is considered the cheapest time of year to move.
During this time, moving companies reduce the rate by about 30% compared to the late spring and summer months. Because this time is winter and the weather is relatively rough and stormy. Above, in late spring and summer months (MAY – August), people consider moving.
As a result, moving companies like Supply and Demand commercial scenarios also increase their rates. 
A survey shows that 62% of moving takes place in the May-early moving season. And there are some reasons for the rush of moving at this time. During this time the weather is quite relaxing, and educational institutions are usually closed. Due to this, moving is easier compared to other times.
You can notice that a 2-person move team charges $800 to $2,500 and $2,200 and $5,700 for short distance and long distance respectively. Which decreases and increases by 3-4% during the off-season and peak season.
What is the cheapest Season to move?
Winter is the cheapest season to move.

Every circumstance has its pros and cons individually. Here, the same too. Summer is the best season to move. As the weather is friendly, the possibility of natural disasters is relatively low. As well as, educational institutions have summer vacation, and working organizations also offer flexible schedules at that time. But the movers' company charges high because of the rush. 
On the other hand, winter is the cheapest season as movers have flexible schedules because the rush of moving is proportionally low then. The reason for low moving during that period can be the harsh weather.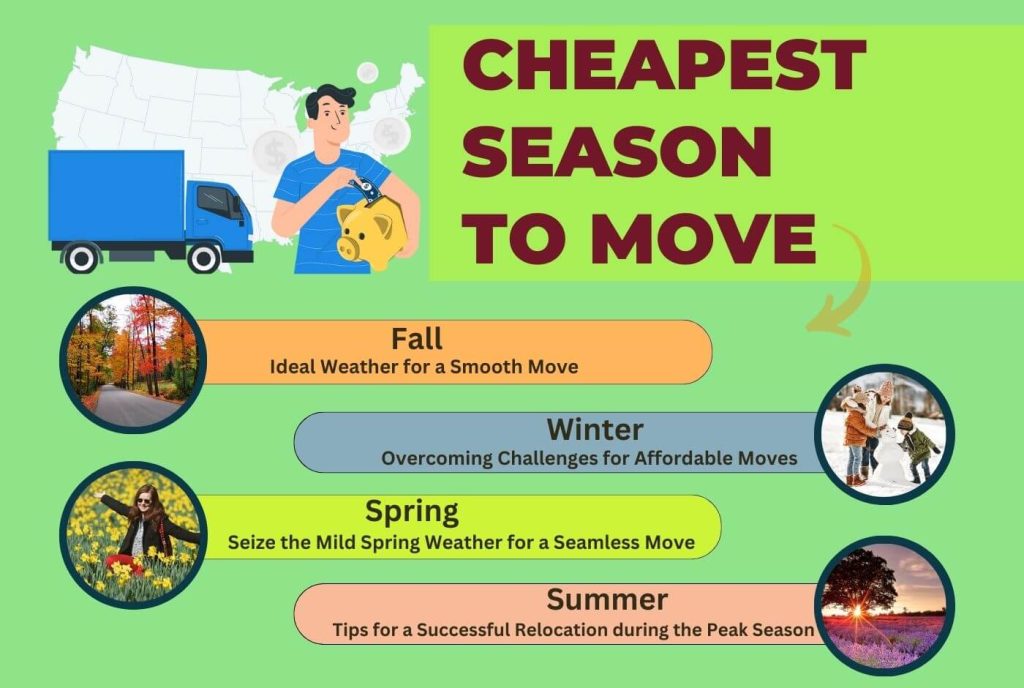 Fall: Ideal Weather for a Smooth Move
Fall shows another affordable option to move. It offers comfortable moving as it has mild temperatures between summer and winter. As well as, there's a low risk of unpleasant weather like snowfall, storms, and road conditions like rush summer holidays, so shifting may become smooth. And you may have an accessible rate of moving due to less demand.

Additionally, there's a high possibility of getting a better offer on home essentials on the 1st of September.
Winter: Overcoming Challenges for Affordable Moves
Winter is the cheapest time to move. The moving company service charge is comparatively low, and the number of moving percentages is less. And there's less scheduling mismanagement of movers than in summer.

It's an unpopular season to move, so there's a high chance of getting homes, rentals, and condos within less budget than in other seasons.
But there's a drawback as well. There are a lot who think of moving at that time like you. So, book fast. Otherwise, you may face delays. Another thing is that daylight exists less during that period, so there's a risk of accidents. In that case, experienced movers are required not to damage your goods.

Also, the weather will be harsh. So, there is a high possibility of snowfall or heavy rain. That may increase the moving cheaper as the movers need to slow down. But there'll be the opposite if you're planning to move to Alexa or Florida.
On the other hand, if you have a school-going kid, the schedule may harm because of the move. Also, it may become the reason for canceling your holiday plans. As winter is one of the best and cheapest times of holiday. But if you start moving, the holiday plans may not execute.
Spring: Seize the Mild Spring Weather for a Seamless Move
Spring is milder compared to summer and winter. Natural disasters like snowfall in winter and the overpressure of summer do not exist in this spring. So, it's a perfect time to save money and take advantage of the moving companies' offers. Moreover, you can get a lot of discounts on house rent too.
But this time may delay your child's or your school and office timings. Again, if you live in the Northeast or want to move. In that case, winter often starts much earlier. There is a possibility that your move will get stuck in snowfall or rain.
Summer: Tips for a Successful Relocation during the Peak Season
Summer is the best time of the year to move, depending on the weather, length of day, and everything. Because during this time, the possibility of any natural danger is less, and because the time of day is longer, the chance of any unexpected obstacle like an accident is also less.

But, movers charge $25-$50 per hour for each. This cost increases as the length of the day is longer. Again this time, summer vacation is going on, so you or your child will not have any problem with timing.
Additionally, if you want to sell the house, it's the best time to sell. Especially in June when you will get 8%-10% more profit.
However, as the percentage of moving is high during this period, the demand for movers is out of your budget. With moving costs, packaging also rises. Again you may not get your preferred day to move. Also, if the temperature is too high, it can damage your electronics or heat-sensitive belongings.
What is the cheapest Month to move?
January is the cheapest month of the year to move.
Moving companies have an "off-season" from the beginning of September to the end of April. Because the weather is cold, roads are closed due to snowfall/heavy rain, and most people don't want to move due to fewer daylight hours.
So, the cheapest movers are available this time, and it is a suitable time to save your money. Even movers reduce their rates by up to 30%. You can even buy or rent a residence 3-6% lower than other months.
Among them, January is the coldest and most natural calamity month. So you can move at a much lower rate this month. Again, if you want to move towards the southern states, then this is a perfect time as it is less cold here.
What is the cheapest Week of the Month to move?
Second-third week of the month is the cheapest to move.
Moving companies reduce their rates in the middle week of the month, so hiring moving helpers is much easier than at the beginning and end of the month. Because at the beginning or end of the month, many houses, apartments, or condo leases end. And at that time, the pressure and demand of the movers are high, so they don't want to reduce the cost.
 
However, the opposite is seen in the middle week of the month, when landlords, including movers, tend to reduce rents and charges. And things to budget when moving become easy to maintain.
What is the best Day of the Week to move?
Friday is the best day of the week to move. Friday-Sunday is the busiest and best day of the week for moving. 
Especially on Fridays. Because if you change at the end of the week, you will be able to handle everything easily as school or your office is closed on Saturday and Sunday. Weekdays mean Monday-Thursday, the moving companies lower their charges compared to weekends. But generally, the rate remains the same throughout the week. 
However, since no one wants to move on weekdays, moving companies often agree to move cheaper to meet their schedule. But at the end of the month, the picture is different. It's better to use the weekdays to wrap up your staff and move on the weekend.
What is the best Time of the Day to move?
Early in the morning between 8 AM – 10 AM is the best time of the day to move. The best time for moving is to avoid hustle hours. 
As soon as possible in the morning, the moving truck will start loading from the current resident and leave for the new destination before 3 PM. In the morning, the movers have more potential and are energetic towards the work, so the staff can be done quickly. 
And usually, the weather becomes unfriendly after evening, so it's better to end your moving in daylight. And also, on working days or weekends, you may have traffic on the road from 11 AM-2 PM and 4 PM-6 PM, so try to cross the road before 5. Because if the moving truck gets stuck in a traffic jam, they will include the charge for those hours.
When is the most expensive time to move?
Summer is the most expressive time to move. 
During that period the weather is good and presents more daylight. As a result, moving can be safe. Again, time management is a bit easier. As school is closed at this time. So, the cost of movers increases rapidly.
Generally, off-season movers charge $25, but here it becomes $50. Again, houses are sold at a much higher price of 10-12%, so the expense of rent, houses, and condos are higher too.
May-August is the time of summer, so moving is very expensive during these months, especially in June.
Moving becomes expensive at the beginning or end of the month. Because the lease or contract of the house, or apartment ends. And people want to move. During these times, the number of people who want to move is more than the number of movers.
No money-saving tips for moving out aren't going to be useful at this time. But the off-season scenario is different.
Top 5 tips: How to make moving cheaper
Not only can the moving cost be reduced by considering the time. There are some more ways of how to make moving cheaper tricks and tips. Discussed in detail below-
Tip 1: Purge and declutter belongings before the move
Moving is one of the best times to clean your furniture and belongings. Clean out your belongings and declutter what you don't need or won't use for a long time. Like old swings, chairs, tables, sofas, room corners, and more. It will also reduce the weight of things when you carry them. As a result, the cost will also decrease slightly.
Tip 2: Compare multiple moving quotes to find the best deal
Browse multiple moving quotes to make moving cheaper. Many charge $35 per mover, and many places charge $25. Distance, timing, and weight of the belongings are also considered factors. By looking in a few places, you can significantly reduce moving costs.
Tip 3: Opt for a DIY move or partial self-packing to save on labor costs
You can start packing yourself in a hardboard or plastic box. You will not need to pay the movers for the separate packing costs. It will take less time. But, you can do the work of packing more easily by starting to pack one room at a time.
Tip 4: Take advantage of free or low-cost packing materials
You can get free boxes for packing from grocery stores, furniture stores sometimes give their boxes at cheap prices or free, check them out. Apart from that, you will find many stores or organizations that are selling off their organizations, even now you can collect boxes from here for less.

And if you save this small cost, you will see the end of the move and save a large amount of money.
Tip 5: Plan your move in advance to avoid rush fees and higher prices
If you want to move, book in advance. Otherwise, you will have to take the service at 2-3 times more rate at the eleventh hour. An important factor in reducing costs is fixing time and cost with movers in advance.
Moving is a pathetic and pricing task concerning time and cost. The hassle can be reduced by selecting a wise time for moving. As winter is known as the cheapest time for moving.

Total cost may decrease about 2-3 times than the peak time. Not only summer but also the middle of a month or the weekdays are also pointed as the cheapest days. In those days, you can easily move within your budget.
FAQ
Is it cheaper to move in the winter?
Yes, it's cheaper to move in winter. 
Because the weather is harsh, not everyone wants to move. And moving companies are mostly free. As a result, they agree to move at a flexible rate. Again, house rent and prices are low this time. So you can get them at a good price, which will reduce your total expanse a lot.
What is the most popular month to move in the US?
June, July, August are the most popular months to move in the US. At that time, it is summer, and the length of the day is much longer. 
There are also holidays. It can be seen that 80% of the amount of moving that takes place every year takes place in these 3 months.
What is the cheapest month to move in New York?
February is the cheapest month to move in New York. At this time, the moving cost is less, and the house rent or price is less too. 
House rents start increasing in May and peak prices in July. Moreover, enrollment in universities and schools is going on in February, so everything is available at low prices here.
Is it cheaper to move during the weekday?
Yes, it's cheaper to move during the weekdays. Because then everyone is busy with their daily staff and don't want to move. 
This time the movers agree to moving at a relatively low price. Moreover, Friday is the most demanding time for moving. Because the next two days are weekends, and one gets enough time to set up a new residence.
Why is it important to supervise your move at both the initial pick-up and the delivery?
For ensuring your moving essentials, it's important to supervise your move at both the initial pick-up and the delivery. 
There was a bump in the road which unconsciously caused damage to the belongings. Again, any misaligned items may remain on the truck or in old locations. You will also know how carefully you need to lift or lower something. So you can guide the movers properly.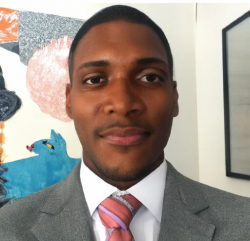 Latest posts by Brandon Pollard
(see all)