Yes, movers can help set up your TV.
A report shows that around 93% of Americans have a TV. It can easily be predicted how important TV is for you. Disassembling, packing, loading, unloading, and assembling a TV can be a risky task as it's a sensitive element with a lightweight and high value.
You may not have enough equipment for making a safe TV moving and setting up.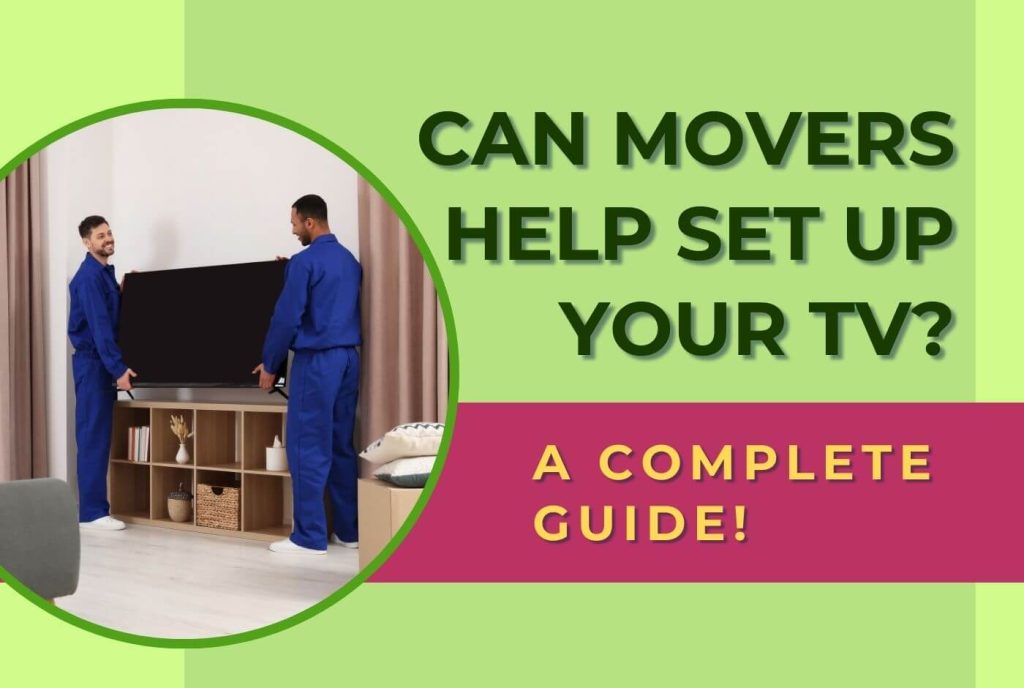 Additionally, setting up a tv can be a tricky and time-consuming task as it needs to be mounted properly, putting the connection into a bit of a difficult task.
But it can be done easily with the help of movers who set up TV. They knew the tips and tricks. So it'll be a wise decision if you let movers set up the TV. Read the blog to know more about the factors, benefits, and things to do and don't while choosing movers to set up TV.
Factors That Determine If Movers Will Set Up Your TV
Not all movers are bound to set up your TV. Moving and setting up something isn't the same thing. Certain things need to be considered. The factors that ensure if your movers going to give TV mounting services or not are-
Type of movers
For the full-service moving services, movers completed all the stuff while moving including packing, loading, driving the truck to your new place, unloading, placing your belongings in the exact place of your new residence, unpacking, setting up your TV, pool table, and so on.
You don't need to be worried about anything if you hire a full-service mover. Even in the case of setting up a TV, full-service movers are the movers who set up TV for you.
On the other hand, self-service movers only drive you to the new address. And all the other tasks packing, loading, and unloading need to be done on your own. In some cases, they may provide you with boxes before your moving day but not going to do anything extra except that.
So, you can't expect them to give you TV mounting services.
Your moving plan
If you are planning to have a local move then the situation is different from the plan of moving to another state. In both cases, movers' requirements are different.

As some movers won't be interested in moving or setting TV a long distance as it's a risky task. Because if any damage occurs unwillingly then it may take $100 to repair. So, make sure or ask your movers to set up TV.
Your TV size
Almost every moving company has a weight limit for the safe moving of individual items. Same for TV. A moving company won't move or set up your TV if it crosses the weight limit.
As they may not have enough tools for wall mounting for a heavy and bulky TV.
Most of the moving companies deal with 25-75 pounds of TVs. Before asking movers to set up TV, make sure your TV goes with its limitations.
Liability concerns
Most moving companies offer you insurance policies if any of your belongings are damaged or misplaced. Same for your TV. If the TV gets harmed during installation or setting up by the movers then the moving company needs to give you a penalty.
Also, they require around $100 to repair a TV. Sometimes the structure of your wall can be tricky to mount a TV safely.
So, describe your wall condition as well as TV to the movers for having a safe moving and setting.
Additional fees
For setting up TVs, movers may need an extra charge that depends on the size, weight, distance of moving, special requirements of yours, and so on.
Additionally, they may ask for extra payment for assembling, disassembling, and connecting other devices including the sound system with the TV, mounting on the wall, and many more.
Benefits of Having Movers to Set Up TV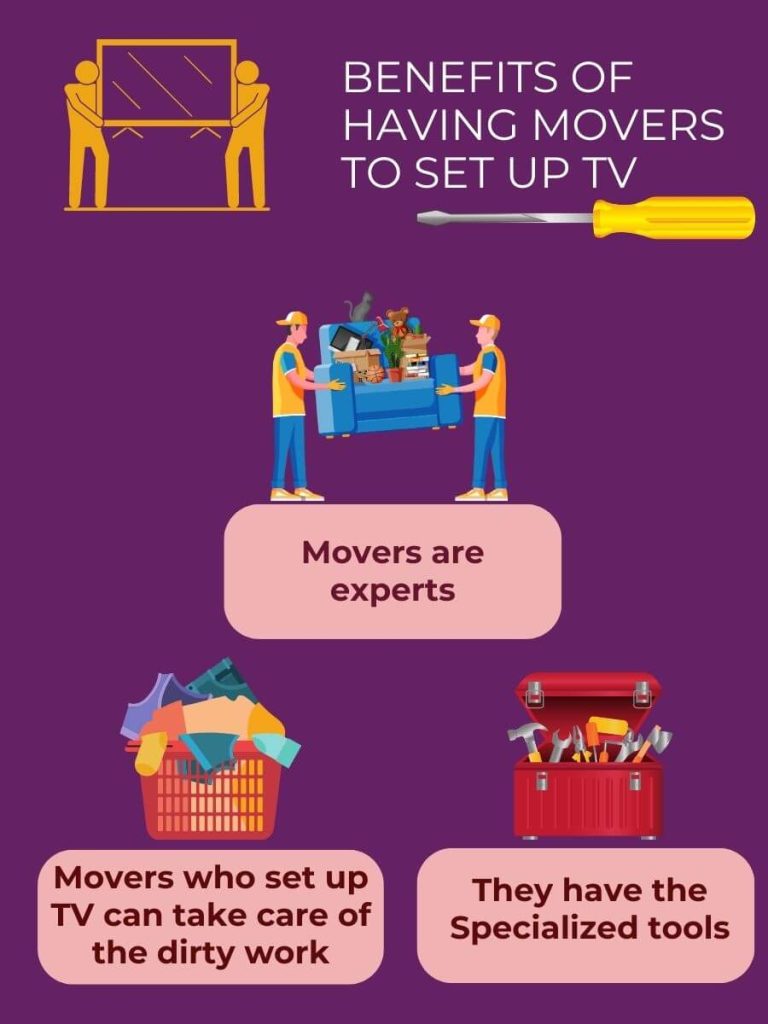 You may not know the technique and have the essential tools needed to set up TV. Also, it can be a hassle and risky for a single person to set up.

But with the help of movers to set up TV may eliminate the risk and hassle regarding this. Not only that there are also several benefits available. That includes-
Movers are experts
Flat-screen TV movers know the ins and outs of installing the TV. They know how to assemble, what wire needs to connect at which point, and so on.
They have the required tools that help to mount a TV on the wall. You may not know these techniques of using these tools.
So, it's time-consuming to let the movers do the task.
They have the Specialized tools
There may include a stud finder, power drill, bits, socket wrench, various sockets, standard/Phillips head screwdrivers, measure tape, hammer drill, and so on to set up a TV.
There are high chances of not having all the things available to you. But movers must keep these kits, including a pencil to point at every point.
It's wise to hire movers who set up TV to avoid your extra energy.
Movers who set up TV can take care of the dirty work
After finishing or while setting up your TV, they create a mess on the spot. But the good news is you shouldn't clean these things.
Movers not only set up your TV but also are going to clean the place for you.
What Do Movers Typically Do When Setting Up a TV?
Not setting up a TV is limited to unpacking it and handing it to the wall. Certain things need to be done including installing the external devices, connecting the power, and setting the soft wares.
Details are given below-
Unpack the TV
First, the movers clean the space so as not to get disturbed or trouble while unpacking the TV. Then put the labels and box off. Clear the foam and bubble wraps around the TV and put them in the box.
Lay down the box and lay down the tv on its face.
Attach the TV stand or mount
The movers should attach the stands to the TV. Some models of TVs have bolts and nuts to connect the stand.
On the other hand, current TVs require a mount on the wall. For this you need to select a position to set the TV, then the movers locate the wall studs with the help of a stud finder. The next step is to grill the point for a hole to attach the mounting bracket. Put the mounting plate to attach the TV to the wall. Movers set things accordingly.
Installing external devices
If the external devices including soundbars, streaming devices, and so on have cable then put them into the pointed area of the TV. But now most of the devices are wireless.
And need to be installed. It's a bit of a time-consuming task but the movers may make the task done for you.
Connect the TV to the power
Movers must connect the TV to the power. They may even connect the external devices to the power too, if it is required.
Calibrate the TV's picture settings
It requires both manual and digital settings. Movers need to select the picture mode as per your requirement it can be normal/standard, vivid/dynamic, movie/cinema.
Try to set the brightness at 50%, contrast, and sharpness set respectively 100% and 0%. Color, Hue/Tints to 50% and 0%, and so on. These tricky things movers will do for you.
If Movers Don't Setup TVs, What Are Your Options?
Sometimes movers don't want to take any extra hassle while moving. Setting up TVs can be a tricky task and movers may not spend much time here. Especially in the peak seasons. Here you can't delay your setting just because of movers.
There are some other options for you to get rid of the situation-
Hire a TV installation service
There are many well-known TV installation companies that offer a variety of TV mounting services. Namely, USA TV installations, TV Technicians, TV Techs Elite, and so on. To find them you need to search online or ask your friend.
Rent specialized TV installation tools yourself
There are some specialized TV installation tools you may need to rent those. For instance, power drill, stud finder, level scale, screwdriver, safety glasses and many more. You can easily find them at your local tool library.
Get a handy friend or family member to help
Ask any of your friends or loved ones who have enough ideas or previous experience to set up TV. They must help you out of the situation. Try to fix a schedule with them.
Set up the TV yourself
To set up the TV by yourself you need to follow some instructions:
Unbox your TV carefully
If your TV is a wall mounting one then at first you need to mount it with your wall by following the instructions that came with mounting instruments.
Plug in the TV with a power socket.
Connect your TV with your devices (cable box, music player, gaming console).
To complete the setup follow the on-screen instructions.
People Also Asked
Do movers pack TVs?
Yes, most of the movers pack TVs for you. 
As for packing TVs need more care, they follow special processing adding some supporting components including bubble wrap, foam, and cork sheets inside the boxes. This will help to adjust the TVs inside the boxes and will protect them from damage. 
Do movers' companies move TVs?
Yes, most movers companies will move TVs. 
They have a lot of experienced packing and moving workers, who can easily pack and transport your TVs safely and securely. They also have proper arrangement of equipment to move large and heavy TVs.
Will movers mount and dismount TV?
Yes, movers mount and dismount TV.
Whether or not movers will mount or dismount your Tv depends on your contact with their company. Some movers will do it as the standardization of their work while others can be charged extra for this. It is suggested to ask about their policy when you will hire them.
Usually, people hire movers to reduce the risk of moving, saving time, and having things perfectly. It's common to ask the mover to set grills, pianos, pool tables, TV, and others. As they have the required kits to do the tasks as well with the proper knowledge of the individual stuff. 
But they may need extra payment for the tasks. If you want to avoid expense and extra instructions then you can set the TV on your own.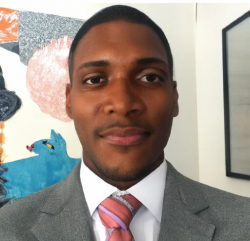 Latest posts by Brandon Pollard
(see all)