Yes, they can. It's not always true that your landlord has no say in who you hire or when you move.
Your landlord can lawfully bar movers or charge you extra for utilizing them. But 80% of Americans hire professional movers or a moving company to move. This is a crucial question if you need professional movers to move out of your apartment or house.
Let me explain how and why this can happen and how you can safeguard your rights and avoid landlord obligations.
The legality of landlord-imposed mover restrictions
Your landlord may have told you not to engage movers to move in or out. Is this legal? It depends.

Landlords cannot enter rental homes without notice, and neither can they ban renters from engaging movers. If you don't damage the property or break the lease, you can transfer your items any way you choose. Your right to quiet enjoyment, including entry and usage, is protected by landlords.

Exceptions: such as if the landlord has a legitimate safety concern.
The landlord can limit movers' use in particular cases. For instance, if the movers are unlicensed or uninsured and could harm other tenants or the property. The landlord may need confirmation of insurance or liability coverage from the movers or a different moving company that satisfies their standards.
Movers may not be used if the lease restricts or needs landlord approval. Landlords can't terminate tenancies early. Condominium and co-op landlords must follow the building association's bylaws. Therefore, this may be more typical. Before hiring movers, check your lease and consult a lawyer.
How to know if a landlord-imposed mover restriction is legal?
Congratulations if the lease does not include movers! Your landlord cannot prohibit or charge you for using any mover. If they don't damage the property or bother other renters, you can choose who helps you move.
If the lease mentions movers, read it carefully to understand. Some landlords may need advance notice or limit movers' access hours or days. These are legal security measures. If they don't disrupt your move, observe these regulations and cooperate with your landlord.
However, some landlord obligations are valid to movers, require you to use their approved movers, or charge you for employing them.
These are unacceptable and violate tenant rights. You can dispute these terms in court. Your landlord cannot make you hire their movers or penalize you for using yours. Your landlord cannot interfere with your move-out.
What to do if a landlord forbids movers?
Moving is hard enough without worrying about your landlord requirements. What if your landlord forbids you from hiring movers? That legal? What can you do?
First, ask your landlord why they're against movers. Safety, property damage, or insurance issues may be the reason. If so, you might compromise by employing a qualified and insured moving company, paying a security deposit, or moving conveniently.
If your landlord is arbitrary or discriminatory, you can appeal their limitation. The Fair Housing Act protects tenants' right to move in and out. They cannot discriminate against tenants based on race, religion, sex, national origin, disability, or familial position.
Thus, if your landlord restricts movers without justification, you can protest to your local housing authority. They'll investigate your landlord and take action. You can sue the landlord for rights violations.
Moving is hard enough without an unfair landlord. Don't let them bully or prevent you from receiving help.
What are the landlord's rights and responsibilities regarding movers?
You may have discovered a new apartment or wish to transfer furniture or things. But what if your landlord forbids movers, charges extra, or has tight moving rules? What are tenant rights?
First, licensed and insured movers are allowed by your landlord. This is what landlord responsibility is. Your right to quiet enjoyment of your rented home lets you use it as you like within reason. If they don't harm the property or bother other tenants, your landlord can't interfere with your personal preferences.
Your landlord also has rights and responsibilities regarding movers. These are landlord requirements.
Request your relocation date, time, and movers' names and numbers.
Submit evidence of insurance if your movers damage the property or shared areas.
Limit moving hours, avoid obstructing entrances and exits, protect floors and walls, etc.
Charge you or deduct your security deposit for movers' damage.
Deny access to unlicensed, uninsured, or illegal movers.
You and your landlord both have rights and responsibilities regarding movers. Landlord responsibility is essential. Communicate professionally and obey your lease agreement. A lawyer or tenant advocacy group can advise you on your landlord's policies and conduct.
What are the tenant's rights and responsibilities regarding movers?
You may question if your landlord can ban you from hiring movers and landlord obligations are valid or not to help you move out. They can't. As a tenant, you can choose a licensed, insured mover who follows building and city requirements.
Your landlord still has a say. Respect their rights and duties respecting movers. Some are:
Your landlord can obtain a copy of the mover's insurance certificate and license number before they enter. This protects them against moving-related responsibility and harm. Your landlord can set reasonable access rules for movers.
They may demand you to arrange an elevator or parking spot in advance or limit the movers' hours or days.
Your landlord must keep the building and unit safe for you and the movers. They shouldn't hinder or hassle your relocation or the movers. Your landlord must fix any move-related damage caused by them or their agents. They should reimburse your security deposit unless you owe rent or cause damage.
As you can see, you and your landlord have rights and obligations regarding movers. Tenant's rights are essential. To minimize problems and misunderstandings, communicate simply and respectfully. You can always ask a lawyer or tenant advocacy group about your move.
Examples of when a landlord can forbid movers
Most landlords deny movers access for safety reasons. Your landlord can bar entry if there is a fire threat, gas leak, or construction. This protects you and others. Respect your landlord and move when it's safe.
Landlord has a no-movers policy due to prior damage.
Some landlords have a no-movers policy due to past damage or theft by movers. Scratched flooring, broken walls, ruined furniture, and missing things are examples.

Before signing the lease, your landlord should advise you of this policy and give a written copy. Read and comprehend it. Ask your landlord for permission to engage movers and offer to pay a security deposit or extra charge to cover any damage.
If your landlord has an exclusive deal with a moving firm they trust and recommend, they can restrict movers.
They may have negotiated a better rate or service with that company. Before signing the lease, your landlord should advise you of such a contract and supply the preferred moving company's contact information.

To avoid problems, utilize your landlord's preferred moving company.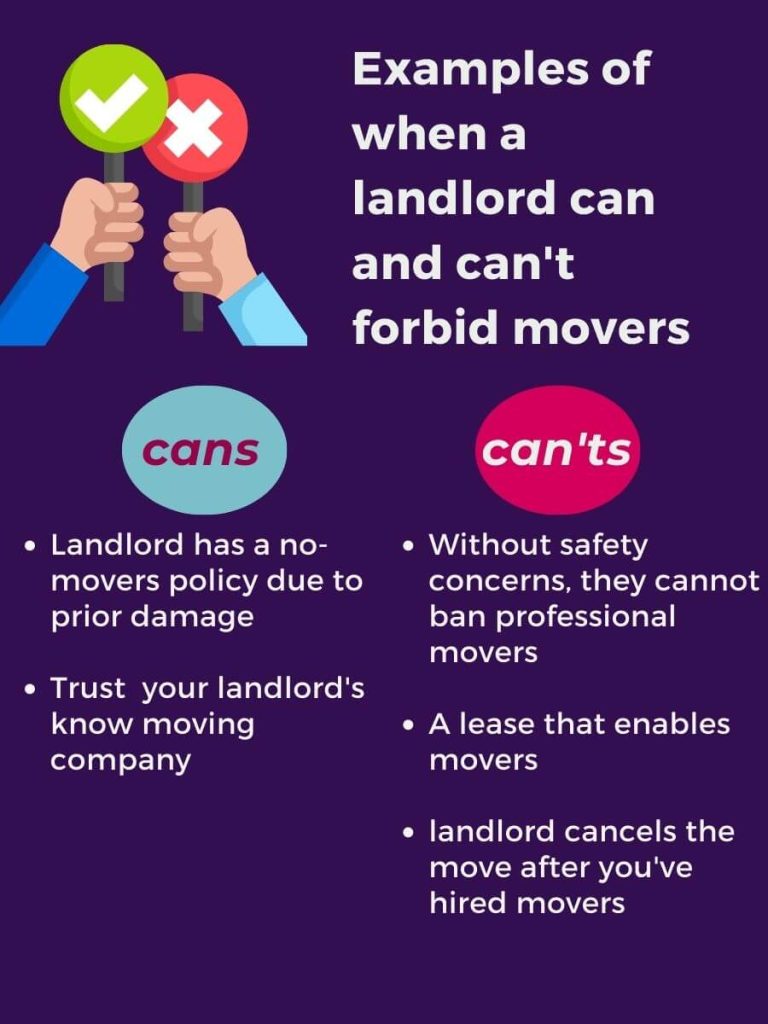 Examples of when a landlord cannot forbid movers
When the landlord has no safety concerns, they cannot ban professional, insured movers from working if they obey building requirements.
The landlord can't say, "It's too noisy" or "too risky" to stop you from hiring movers. Tenant's rights must be privileged by the landlord.
Another example is a lease that enables movers.
Some leases require relocation time, fees, and notice. You can use movers if your lease allows. You must approve lease changes.
The landlord cancels the move after you've hired movers.
This violates your contract and rights. They cannot postpone or reschedule your move without valid landlord obligations. If the landlord does so, you may be able to recover your losses.
There are several instances where a landlord cannot prevent movers. It depends on your scenario, but there may be other situations. A lawyer or tenant advocacy group can answer your inquiries concerning tenant rights.
People Also Asked
How much is movers' insurance landlord?
Movers' insurance landlord costs $0.60 to $4 per $100 valuation, depending on coverage. For $10,000 of moving items, landlord movers insurance costs $60 with basic coverage of $0.60 per $100. Landlord movers insurance is $400 with $4 per $100 full-value protection.
You study your lease and verify local laws before hiring movers. If you disagree with your landlord, you can communicate respectfully and efficiently. Tenants and landlords have rights and duties.

Understanding one another's perspectives and establishing common ground might help you move without confrontation. Know more about if moving companies need deposits.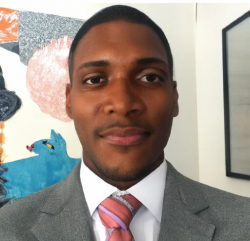 Latest posts by Brandon Pollard
(see all)