Moving costs include fees for a moving company, transportation, storage, and temporary housing. This is essential to know while moving. Relocation charges vary by firm and job.
Knowing the fine print will help you handle your move and make smart decisions. Let's look at what factors affect movers' coverage of moving costs.
What is "Relocation Expenses"?
"Relocation Expenses" are the costs of moving a person or business. When someone or a corporation moves, these costs usually occur. Distance and circumstances determine relocation costs.
Individual relocation costs typically include transportation, packing, temporary lodging, and travel. These expenditures can include selling or ending a lease on a present residence and rental deposits or down payments on a new home. Transferring utilities, changing licenses or registrations, and other administrative fees may add up.
Relocation costs for enterprises include transferring a firm or branch. This can include paying expert movers, relocating equipment and inventory, selling up new facilities, employee relocation assistance, and potential productivity loss during the changeover.
Relocation expenses might vary depending on an employer's rules, a relocation package's terms, or a country or region's legislation.
What are the most common moving expenses that are covered by relocation packages?
Common moving expenses are often covered by relocation packages. Here's a breakdown.
The cost of hiring professional movers
Professional movers pack, load, transport, and unload your home items in relocation packages. This makes sure that the employee's move goes smoothly.
The cost of packing and unpacking
A moving package might include boxes, tape, and other packing tools. Some packages come with expert packers who will help you pack and unpack.
The cost of renting a moving truck or trailer
If the employee moves himself or herself, the relocation plan may cover the cost of renting a truck or trailer. The worker can move their belongings.
The cost of shipping household goods
Relocation expenses may include freight or cargo shipping of home goods for people moving long distances or internationally. This includes travel by sea, air, and land.
The cost of travel expenses for the employee and their family
Most relocation packages, like plane or train tickets, cover journey costs for the employee and their family. They can go to the new location to find a place to live, finish paperwork, or deal with other moving-related problems.
The cost of temporary housing
Relocation packages may include hotel stays or short-term rentals for workers who need temporary housing until they find a permanent home.
The cost of breaking a lease
Some relocation deals may pay the employee's early termination fees if they need to leave their current lease early.

Coverage and limits of relocation packages rely on the company's policy, the job of the employee, and other factors. Check the moving package for information on what is included.
What are some of the less common moving expenses that may be covered by relocation packages?
Some moving deals may cover these and other unusual costs. Expense details-
The cost of pet transportation
Relocation packages may include pet transportation, medical checkups, health certificates, and quarantine fees.
The cost of storage
The moving package may cover the costs if the employee needs to keep their things for a long time. This can help if moving takes longer or you need to store things after downsizing.
The cost of home repairs
Before the employee moves in, the relocation plan may pay for repairs or upgrades to the house. Some examples of repairs are fixing problems with the building's structure, replacing electricity or plumbing systems, etc.
The cost of home inspections
The employee may need to check out the new place as part of moving. Some moving deals include these checks to ensure the new home is safe and meets quality standards.
The cost of taxes and fees
Taxes and fees may be taken care of by moving packages. There may be real estate transaction taxes, transfer taxes, and other costs associated with buying a home.
Remember that company rules and regulations in the moving packages may cover these less common relocation expenses. Check the package or talk to HR to find out what comes with it.
How do you know if movers are covered in your relocation package?
Check the papers with your moving package to see if workers are covered. How to figure it out follows.
Check out your Moving Package
Read the papers from your company or the moving service. Check for the details like a moving allowance or skilled movers.
Rules and Regulations of Movers
Look for words and sentences about moving, transporting, and changing places. This could include moving services, rules, and the move process.
Ask your HR or Transfer Coordinator
Ask your employer's HR staff or relocation assistance coordinator if you have coverage questions. They can tell you how your moving services are covered by your moving deal.
Request a Meeting
If some of your relocation deal details aren't clear, or you need more information, ask for a meeting or a talk. This is a chance to learn about covered moving services and the rules that go with them.
Ensure Movers are Included
Check the proper paperwork and ask the right people to ensure your moving package includes movers.
How do you ask your employer for relocation expenses?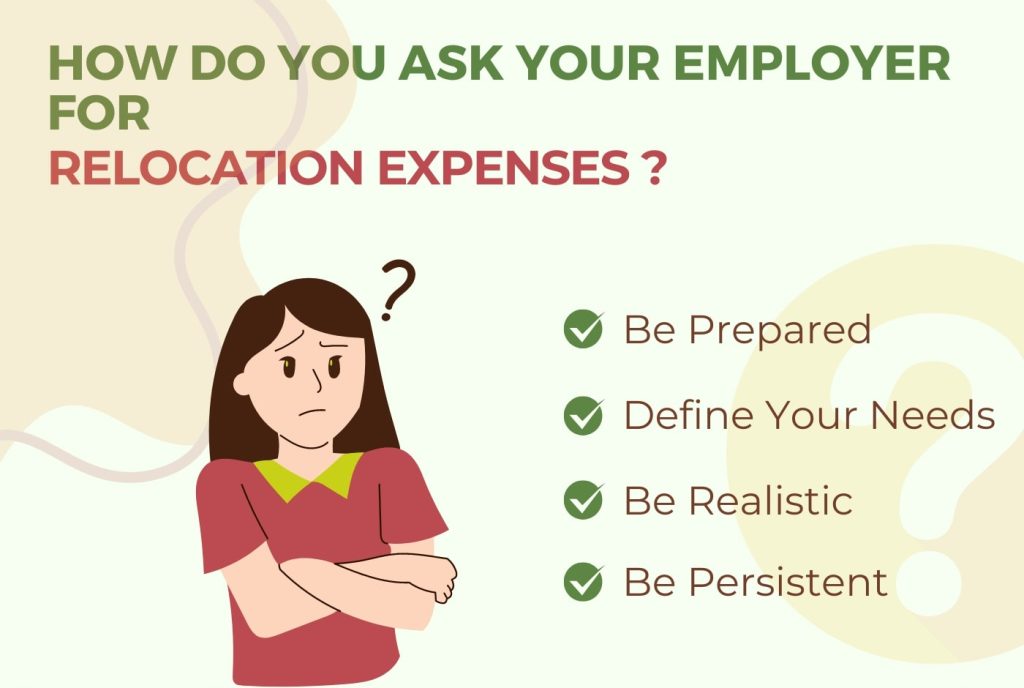 It's hard to talk to a boss about moving costs. Advice for this conversation follows.
Be Prepared
Get information about moving before you talk to your job. Calculate moving prices, travel, temporary housing, and other things. This shows that you did your research and are ready.
Define Your Needs
Tell them what you need to move. Tell them why you are going, like if you are changing careers. Promote the benefits of your move to productivity, employee retention, and the company image. Show why it's good to help the company.
Be Realistic
When discussing moving prices, find out what moving deals companies in your field and area offer. When making demands, think about the size of the business, its rules, and the norms of the industry. Being fair will help you get a better deal for employee relocation package.
Be Persistent
Persist if your relocation assistance request is rejected. Talk to your boss or the HR staff to find out how they see things and their limits. Check your company employee relocation package policies or arrange a flexible plan for reimbursement or a set of fees. Talk more to make a deal.
Companies have different rules about moving. It's essential to be professional, make your case well-studied, and be willing to change based on your employer's needs and the situation.

Research found that 33.07% of workers received moving expenses, 18.08% received sponsored trips to look for housing, 16.58% received a lump sum to use as needed, 16.48% received temporary living costs, and 15.78% received a miscellaneous expense allowance.
Navigating Relocation Expenses
Moving to a new job is exciting, but it costs a lot. Many workers ask their employers for help with moving to make it easier. Some tips are below.
Provide information to back up your request for relocation costs. When asking for employee relocation costs, send any necessary paperwork, such as moving quotes, receipts, or other relevant paperwork.
Relocation expense limits. Ask your workplace or HR department about employee moving expense limits. This lets you make your request more specific.
Show how the company gains from the move. Highlight the benefits of offering employee relocation packages, such as higher output, less stress, and a smoother transition into the new job.
Tax effects of moving. Relocation costs may affect taxes. Talk to a tax expert or read up on the rules to find out how moving costs might affect your taxes and what tax benefits or responsibilities you might have.
Ask the boss immediately about moving costs. Talk to your company immediately about the costs of moving. Getting to the topic quickly lets people talk, plan, and set budgets.
If moving costs can't be paid for, offer alternatives. If the company can't pay all the moving costs, suggest a moving fee, reimbursement for certain costs, or help find cheap housing. This shows that you are flexible and willing to work with others.
Ask about how long it takes to make decisions about moving costs. Ask your company or HR department how long it takes to decide on moving costs. Knowing the time frame helps you set goals and make plans.
Get help moving. Ask about help for workers who are moving. Examples include relocation experts, short-term housing, and programs to help employees.
Knowing how movers pay for moving costs, you can better plan and carry out your move. This will help you move and start your new job without a hitch. You may read how to move efficiently or how to get an apartment in a new state.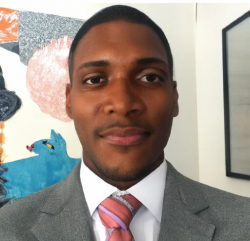 Latest posts by Brandon Pollard
(see all)